Sally Benson — June 9, 2017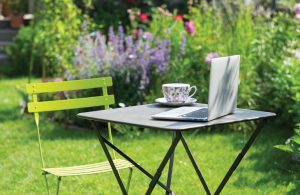 Going native, going high tech. That doesn't make much sense, does it? But according to the most recent customer preference survey conducted by the American Society of Landscape Architects, that's what customers want.
According to the ASLA, "Customers prefer sustainable — yet tech-friendly — design elements for their outdoor living spaces. … For the first time, wireless/Internet connectivity entered the top 10 project types, suggesting that people want a back yard that allows them to enjoy both nature and connectivity."
Here are the Top 10 project types with the "expected highest consumer demand":
Native/adapted drought tolerant plants – 82.31 percent
Native plants – 81.60 percent
Low-maintenance landscapes – 79.25 percent
Food/vegetable gardens (including orchards, vineyards, etc.) – 76.52 percent
Permeable paving – 76.31 percent
Reduced lawn area – 72.66 percent
Fire pits/fireplaces – 71.51 percent
Drip/water-efficient irrigation – 71.05 percent
Wireless/internet connectivity – 70.77 percent
Rainwater/graywater harvesting – 70.32 percent
Seems "connectivity" has a couple of meanings. Homeowners want to connect with nature – topping the list are not only plants, but natives or adapted plants that require less water. And homeowners want to connect with the vast universe that is the Web.
"The fact that more consumers want outdoor wireless access shows that they want expanded options for remaining connected to their devices," said Nancy C. Somerville, Hon. ASLA, executive vice president and CEO of ASLA.
"Well-designed residential landscapes provide social interaction, enjoyment of nature and physical activity, while also reducing water use and stormwater runoff," said Somerville.
Sounds a little like having your cake and eating it, too. But outdoor kitchens didn't rank highly in this survey.
Consumer requests were broken down further among a number of categories, and the three most requested outdoor design elements are fire pits/fireplaces, wireless/Internet connectivity and lighting.
No. 1 among the most desired landscape and garden elements is native plants. Low maintenance landscapes and food/vegetable gardens follow closely. Next?
Rain gardens
Organic gardens
Water-saving xeriscape or dry gardens
Plant walls/vertical gardens
Rooftop gardens
Decorative water elements (ornamental pools, fountains, splash pools, waterfalls, grottos, water runnels or bubblers)
Ponds/streams
The most popular elements of sustainable design are native/adapted drought tolerant plants, followed by permeable paving and reduced lawn area. Water-efficient irrigation, rainwater harvesting, recycled materials, solar-powered lighting, compost bins and geothermal heated pools also seem to be popular.
Wouldn't it be nice if connecting with nature meant leaving behind the other distractions? Some of us would think so. But if the new "connectivity" means that more homeowners and more generations are connecting – in whatever way they're comfortable – then by all means, let's embrace it.