Zika Wolfe — September 1, 2013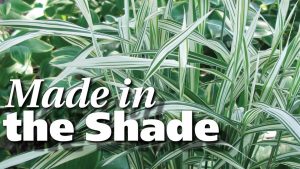 It's a common misconception that shaded gardens can't support ornamental grasses. Several selections thrive in shade and help bring that often-overlooked space to life.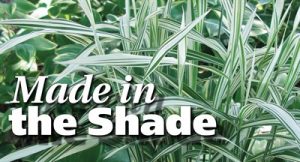 Click image to enlarge.
Chasmanthium latifolium 'River Mist' provides a brilliant flash of light in the shade garden. A bit smaller than the species, this cultivar boasts a sophisticated look.
Photo courtesy of Hoffman Nursery Inc.
Shady spots come in many forms. Nature provides trees and dappled shade. Skyscrapers and office buildings generate shadows depending on the angle of the sun and the time of year. Pergolas and other patio shade structures give people relief from the heat of summer and encourage them to spend time outdoors.
When it comes to choosing plants for these shaded spots, folks often turn to a traditional cast of characters, including Hosta, ferns and Heuchera, to name a few. Sedges in the Carex genus have also become popular picks for low-light conditions. Their reputation as the go-to plants for low light are well-deserved, and all are valuable. Placed just so in a mosaic tapestry, shade plants bring a serenity and peace sometimes missing from energizing, full-sun gardens.
But what about grasses? Most ornamental grasses evolved to withstand heat and bright sun. However, nature also allowed grasses to thrive under forest canopies and others to adapt to the heavy, filtered light of riverbanks. Luckily, several shade-adapted grasses are available in the nursery world.
These unconventional ornamental grasses come in luscious greens and golds, dramatic near-white, or wear vivid variegation. When designers and landscapers want a little more from the shady areas, these beauties embody the special qualities grasses bring to the garden table: movement and texture.
Cool-season grasses and shade
Cool-season, sun-loving grasses can turn into shade plants in the warmer climates. Shade keeps them from fizzling out in the heat and gives designs a boost. These plants may not flower as profusely in shade as they would in sunnier spots, but their foliage and adaptability more than make up for any lack of blooms.
Arrhenatherum elatius ssp. bulbosum 'Variegatum' (striped tuber oat grass) is a slow-spreading, cool-season beauty. It forms a spiky clump, although its leaves are pliable. Each narrow blade holds conspicuous white borders with a thin, dark-green line running down the center. As it grows, the plant appears near-white.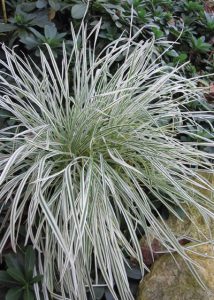 Click image to enlarge.
Striped tuber oat grass is one of the brightest ornamental grasses. As it grows, leaves look near-white.
Photos courtesy of Hoffman Nursery Inc.
This gem is one of the brightest ornamental grasses. In shady landscapes, its coloring reflects light and enhances darker-colored plants. It is important to plant it where a low-growing groundcover is needed, as it will spread slowly by underground tubers; this selection is quite tolerant of drought and inhospitable soil. It is also happy in decorative urns on a shaded patio. This grass stays small – about 8 inches tall – and produces attractive, oat-like flowers in cool climates. A great choice for planting under deciduous trees in warm climates where it will be shaded in summer and receive more sun in winter, it may wither a bit in the heat. If so, cut it back and watch new growth appear when temperatures cool down. Originally from Europe, A. elatius ssp. bulbosum 'Variegatum' is hardy in zones 4 to 8.
Pack in loads of texture and movement with Deschampsia cespitosa (tufted hair grass). A versatile grass for wet-to-moist soils, it handles more sun in cooler climates and part-shade in warm areas. Like many landscape plants, it may take some testing to see which spot works best in your area, but when D. cespitosa finds the right place in the landscape, watch for a show to begin. Long stalks emerge from a tufted green mound of narrow foliage. In late spring, stems develop a multitude of billowing, light-green inflorescences, which dance in the slightest breeze. Height may vary depending on the amount of sun it receives, with a normal range from 1 ½ to 4 feet with flower. Tufted hair grass is native to bogs and woodlands in both North America and Eurasia. In the U.S., it's hardy in zones 4 to 9.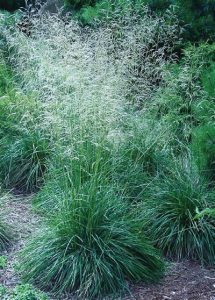 Click image to enlarge.
Tufted hair grass, Deschampsia cespistoa, sends up long stalks with clouds of flowers in late spring.
D. cespitosa cultivars offer their own unique qualities. D. cespitosa 'Bronze- schleier' (Bronze Veil tufted hair grass) reaches 2 to 3 feet, and inflorescences develop an airy, translucent bronze hue. Its gold fall color brings late-season interest. Use it as a specimen, in large drifts, or to create a meadow.
For a golden twist, try D. cespitosa 'Goldtau' (Golden Dew tufted hair grass). Seed heads emerge from dark green stems in an explosion of chartreuse-yellow, eventually changing to bronze. It, too, is clump growing with fine-textured leaves, but may grow a bit smaller than the species, up to 2 feet. Its golden coloring contrasts beautifully with sedges, ferns and Hosta.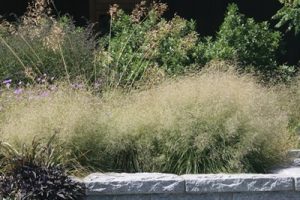 Click image to enlarge.
Deschampsia cespitosa 'Goldtau', with golden-hued flowers, grows a bit smaller than the species.
When planted in warmer climates, Deschampsia bloom production may lessen. However, D. cespitosa 'Schottland' (Schottland tufted hair grass) seems to be the exception. It is a profuse bloomer, creating thick clouds of airy, light-green seed heads in spring. D. cespitosa and its cultivars may be semi-evergreen given optimal conditions.
Within the same genus resides Deschampsia flexuosa (crinkled hair grass). A native, cool-season grass, it looks both natural and ornamental. Long-lasting, wispy, bronze-purple panicles tower over thin, vibrant green leaves. It is content in both sun and shade, so it will accept dappled or half-shaded spaces. It looks more dramatic in groups or masses than as a single specimen where it might get lost. Crinkled hair grass is undemanding about soil and water.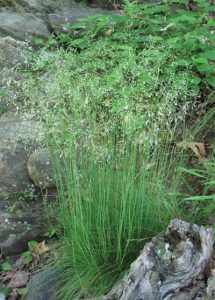 Click image to enlarge.
The tall stalks of Deschampsia flexuosa hold delicate flowers. This grass is content in shade, part shade and sun.
Another cool-season ornamental grass, Sesleria autumnalis (autumn moor grass) rests quietly in a foot-tall mound of yellow-green leaves until midsummer. It then wakes up. Narrow stems emerge and hover above with silvery-white inflorescences. This uncomplicated and robust grass is reasonably drought-tolerant and takes to part shade like a champ. It is a small, congenial grass, which looks stunning planted in masses. It's hardy in zones 4 to 7.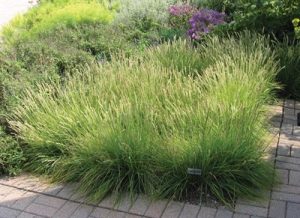 Click image to enlarge.
Sesleria autumnalis works well as a groundcover. It is a tough, robust little grass.
Warm-Season Grasses for Shade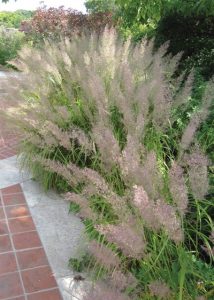 Click image to enlarge.
Exquisite, pink-tinted blooms of Calamagrostis brachytricha soften the tiled walkway on this shady path.
Calamagrostis brachytricha (Korean feather reed grass) has perhaps the most exquisite ornamental plumes of the shade-tolerant grasses. In early fall, pink, feathery blooms intermingle with 4-foot-tall green foliage. A fountain-like habit, combined with these gorgeous flowers, forms a picturesque sight, especially when planted in masses. Yet, a single plant has enough detail and decorative strength to stand alone as a specimen plant. Korean feather reed grass works equally well in formal and casual settings. It is important to give this plant a good start by watering well at initial planting, and be sure to supply additional irrigation the first season. Thereafter, it should do well on its own. C. brachytricha is hardy in zones 4 to 9.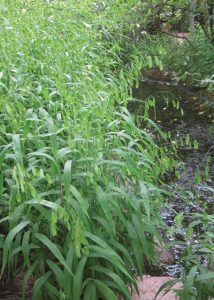 Click image to enlarge.
Native grass Chasmanthium latifolium can form a tall groundcover in a wide range of soils and in varying light conditions.
North American native Chasmanthium latifolium (river oats) is a true tough guy of the grass world, withstanding poor, dry or moist soils in full sun as well as deep shade. It's also remarkably handsome. Green, bamboo- like foliage and early-summer, oat-like hanging seed heads add subtle beauty. When placed in shade, river oats keeps to roughly 2 to 3 feet. In sunny, fertile landscapes, it may grow taller. Plant this native where reseeding is welcome. It will reseed, which could benefit places that need to be filled in with foliage, but might not be ideal for an immaculate perennial border. River oats is a fabulous solution for dry shade, especially in areas where a high groundcover is needed. This grass is hardy in zones 5 to 10.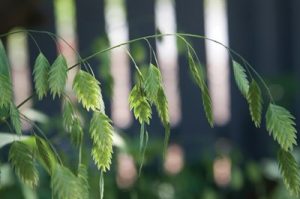 Click image to enlarge.
Hanging oat-like seed heads of Chasmanthium latifolium appear in early summer for a long bloom season.
Chasmanthium latifolium 'River Mist' PP20643 (variegated river oats) grows slightly shorter than the species, but it's just as graceful and ornamental. Add white and green stripes to its bamboo-like foliage and it takes on a more sophisticated look. Silvery, drooping, oat-like seed heads in midsummer sport a bit of light green. This decorative native cultivar looks stunning in containers, and seed heads make excellent cut flowers. It tends to reseed; seedlings will come up green and should be plucked from the landscape to preserve a variegated look. While the species is happy in sun or shade, 'River Mist' is sensitive to sun and needs shaded relief. It's hardy in zones 5 to 9.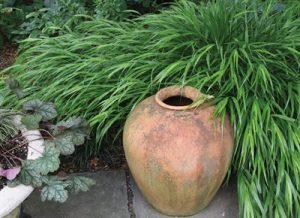 Click image to enlarge.
The soothing green of Hakonechloa macra brings tranquility and texture to shady spots. This hakone grass tolerates a bit more sun and drier soil, and is faster growing than its cultivars.
Hakone grasses are super-bright, showy shade lovers. Originally from the Mount Hakone region in Japan, they depend on rich, organic, moist, well- draining soil to look their best. They grow in mounding clumps and spread very slowly by rhizomes to create luscious groundcovers. To take full advantage of their landscape magic, let foliage flow like cascading waterfalls over rocks, garden walls or from decorative containers. The selections highlighted here are generally hardy in zones 4 to 7 and reach 1 ½ to 2 feet in height. These grasses are appreciated for their foliage and habit.
Hakonechloa macra 'Aureola'(Golden Variegated hakone grass) received the 2009 Perennial Plant of the Year™ award. It brings an elegant component to shade. Tapered, golden leaves feature intermittent green lines. Leaf coloring is most pronounced in deep shade and less so in sunnier spots. At most it reaches 2 feet in height.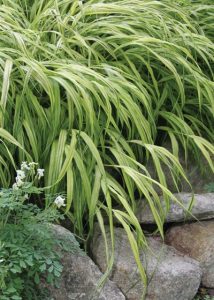 Click image to enlarge.
Bright, showy Hakonechloa macra 'Aureloa' looks stunning tumbling over rock walls. Hakone grasses like rich, organic, moist soil.
H. macra 'All Gold' (gold hakone grass) adds a burst of color excitement. It truly is "all gold," as its name implies. Combine it with deep greens, blues and purples for a dramatic shade palette.

Click image to enlarge.
Hakone grasses make great container plants for shade, as shown in this shot of Hakonechloa macra 'All Gold'.
H. macra (hakone grass) may have been overlooked while colorful cultivars grabbed the spotlight. However, it offers tranquil green leaves that easily fit into designs. It tolerates a bit more sun and drier soil, and is faster growing than the cultivars.
Explore. Experiment. Expand.
There is no need to give up on ornamental grasses because of lack of sun. Of course, each landscape presents a set of unique attributes, including microclimates and other environmental factors, to take into consideration when choosing the right plant. Use these suggestions to expand your possibilities for shady spots. Adapt to your local conditions. And enjoy exploring grasses in shade. May you have success and great grasses.
Zika Wolfe enjoys garden writing, gardening with ornamental grasses and working at the grass nursery, Hoffman Nursery Inc., in Rougemont, N.C. She can be reached at [email protected]