American Nurseryman Magazine Staff — October 1, 2012
Name:
Spilanthes oleracea
Common name:
Toothache plant, eyeball plant, peek-a-boo plant
Hardiness:
Zones 10 to 11
Mature height:
12 to 18 inches
Mature spread:
12 to 15 inches; mound shape
Classification:
Tender perennial
Landscape Use:
Herb gardens, perennial beds, containers
Ornamental Characteristics:
Bright yellow, oval flowers with contrasting red eye that blooms late spring to fall on sturdy stems. Low-maintenance and easy to propagate from seed.
The Wilson Botanical Gardens in Wilson, N.C., recently installed a Secret Children's Garden, so a lot of my time has been spent thinking about youth gardening programs. While I want to provide an educational experience for children, and encourage their love of gardening, one of my main objectives was to keep it fun! When thinking of "fun" plants, the first one that came to mind was Spilanthes oleracea, also known as toothache or eyeball plant. Not only can the children "garden graze" on the leaves, it also can lead to fun stories and freaky eyeball activities.
I was first introduced to this plant in 2009 while creating the Wilson Botanical Gardens Culinary and Medicinal Herb Garden. It was decided to group the herbs based on their medicinal properties. So Spilanthes was grouped in the "Healing Herbs" along with more familiar plants such as Echinacea purpurea. As we started to lead tours of the herb garden, toothache plant and Stevia were among the most popular that guests wanted to sample.
Spilanthes oleracea is a native to South America and is only hardy in warmer climates, but it is well-worth growing as an annual for something different in your garden. Here in Zone 8, depending on winter weather, the plant has overwintered or always has reseeded itself.
The plant, which is also called Acmella oleracea or Spilanthes acmella, is a flowering herb that has leaves and flower heads containing spilanthol used to numb toothaches. If you eat a whole flower bud it results in a grassy taste, followed by an extremely strong tingling or numbing sensation. There is often excessive saliva production with a cooling sensation in the throat. I personally have only chewed a part of a leaf and the numbing sensation lasted quite a while.
Photo courtesy of North Carolina Cooperative Extension, Wilson County Center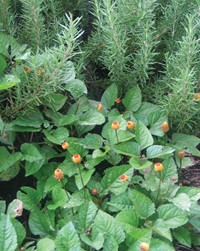 Of course, most people grow toothache plant more for its ornamental value as a small, erect plant that sends up gold and red flowers. This unusual selection is quick and easy to grow. Oval shaped blooms are golden yellow with dark burgundy-red eyes starting in mid-summer and blooming repeatedly until fall. The handsome, dark green foliage grows as a mound reaching 12 to 18 inches in height and 12 inches wide. Some literature states that foliage can have a purple or bronze effect, but I have not seen that coloration in the plants I have grown. Toothache plant grows best in full sun but is reported to survive in partial shade. The plant requires average water needs – but do not overwater. Soil should be well drained in the pH range of 6.1 to 7.5.
In addition to its medicinal properties and ornamental value, it can also be used as a culinary herb. If used in salads, it has a pepper-like flavor. Cooked leaves lose their strong flavor. Both fresh and cooked leaves can be used in dishes such as stews and often combined with chilies and garlic to add flavor.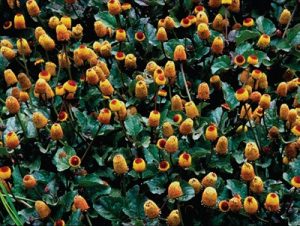 Photo by Dr. Robert Lyons
Propagation by seed is easy. Allow seed heads to dry on the plants. Remove and collect the seed, which then can be cleaned and stored until planting time. The Wilson Extension Master Gardener volunteers grew seeds in their greenhouse this year with a 100 percent germination rate. Seeds can be direct-sown outdoors after the last frost.
I have not experienced any issues with insects or diseases. My only pest has been bunnies that have eaten my plants to the ground in my rose garden at home. It makes me wonder if those bunnies experienced the excessive saliva and are hopping around foaming at the mouth like a rabid rabbit!
Cyndi Crossan Lauderdale
North Carolina Cooperative Extension, Wilson, N.C.
[email protected]