Anelle Ammons October 14, 2016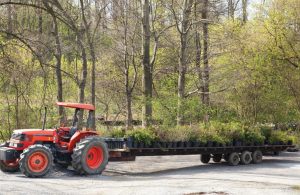 Shipping plants begins in the field, long before the trucks are ready to be loaded. So getting them from field to truck, field to dock, or truck to retail can be a delicate dance. Protecting those plants is key to healthy profits. The right carts and wagons can help, and we've highlighted a few here.
What also helps is worker safety. You want your plants to be strong and healthy, and the same applies to your employees.
Wellmaster 4WS tracking wagon
Photo: Wellmaster
Tracking wagon
If you've got acreage to cover, you need something that will allow you to take fewer trips into the field. The 4WS (four-wheel steering) tracking wagon from Wellmaster was created to transport carts and nursery stock between the field and the nursery and then on to the customer.
Each unit can be designed to your specifications, depending on the number of carts or racks you use. The deck is composed of checker plate, and the entire unit is primed and painted. Standard wheels are 5-bolt rim and hub with 6-ply tires (8.5-inch by 8-inch by 18-inch), rated at 2,500 pounds. Ultimate wagon capacity is 6,000 pounds of distributed load; an optional 10,000-pound capacity distributed load model is available.
Special features include a rack for extra shelves, articulated axle, four-wheel steer wagon for tracking and pulling multiple wagons, and cart restraint bar. Catwalks are located on the front, back and one side of each wagon; carts can be loaded from the side or by ramps or a forklift.
Need more? Options include catwalks between each pair of carts; canopy and frame; towing package to allow towing from either end; and the ability to load from both sides.
For more information: http://www.wellmaster.ca
Wellmaster Tandem Axle Trailer
Photo: Wellmaster
Tandem axle trailer
Wellmaster's tandem axle trailer can transport your plants from field to loading dock and back again on a sturdy, rear-load platform. All-steel construction features mesh (raised or flattened), solid sheet steel or checker plate decks; decks can be manufactured with a combination of these materials. Rear ramps allow for easy on-off loading, but the trailer may also be loaded with the use of a forklift. Ramps lock upright for travel. Catwalks on either side of the trailer provide quick access to the deck, allowing crew a safe and convenient way to stabilize racks and plants during loading and unloading.
Standard deck capacity is 6,000 pounds (distributed load); an optional 10,000-pound capacity deck is available, and may be custom designed and manufactured for other load requirements.
A heavy-duty tongue with screw jack system provides stability. Wheels feature 5-bolt rims and hub and 6-ply tires (8.5 inches by 8 inches by 18 inches), rated at 2,500 pounds. An independent wheel bogie system is designed to allow all four wheels to remain in contact with the ground when the trailer is driven over uneven terrain.
Extra shelves can be accommodated, and a cart restraint bar with pocket position secures one cart or a trailer-load.
Units can be custom designed to customer specifications.
For more information: http://www.wellmaster.ca
Two-sided, removable shelf cart from Matco
Photo: Matco Distributors
Removable shelf cart
The durable, two-sided, removable shelf nursery cart from Matco Distributors has a high volume capacity, making it easy to transport more plants in one operation. The zinc-plated cart comes with five removable shelves and base — shelves are composed of a solid sheet metal deck — but it's configured to accommodate shelves by other manufacturers. It stands 83 inches tall and 59 inches long by 21-3/8 deep; each cart includes 5-inch by 2-inch casters (two rigid and two swivel). Tow hitch and coupling are included, allowing for towing by hand or by vehicle, and a socket assembly makes it easy to quickly dismantle the piece for shipping, handling and quick set-up again.
For more information: http://www.matcodist.com
Large transport cart from Matco
Photo: Matco Distributors
Large payload cart
Matco offers a large capacity cart for transporting plants on three removable shelves. The unit measures 84 inches tall and 57.5 inches long by 31.25 inches deep — but it folds to 10 inches when shelves are removed. When folded, 100 carts and 300 shelves can fit in a 48-foot to 53-foot trailer. Rear pockets allow for the use of a forklift.
For more information: http://www.matcodist.com
Safe shipping
Your plants — your profits — depend upon good breeding, appropriate culture and safe passage to their ultimate destination. Your employees — and your profits — depend upon a safe working environment, and the shipping process is one aspect of their responsibilities that can present hazards if they are not well trained, and careful. Whether they're operating machinery, driving vehicles or bending and lifting, the best practices you've established will help ensure that they're safe as well as efficient.
Personal protective equipment needn't be as involved as that used for chemical application, but should include the common sense gear normally worn on nursery property.
Long pants, long-sleeved shirts, sturdy boots and hats protect from scrapes, bumps and the sun. Ignoring the basics of body mechanics, however, can present the risk of injury.
When plants are being pulled and staged for shipment, there's a lot of heavy lifting; if not heavy, it's repeated lifting in sometimes awkward positions. Kneeling and squatting, bending from the waist, leaning too far forward, extending the arms overhead — all of these motions can spell trouble. And when there's a rush to fill an order or to get those trucks rolling, there's little time for rest between stressful movements and positions.
How can you ensure your workers are safe? Teach them basic ergonomic principles.
You can hire a specialist to train your employees, or you can provide them with educational safety materials that illustrate, in clear and simple terms, how to lift and carry. A lunchhour demonstration in the field or on the dock provides real-life and real-time tips.
Your county may have resources you can tap, and the Occupational Safety and Health Administration surely does. So does the Centers for Disease Control and Prevention's National Institute for Occupational Safety and Health.
Let's face it: It's humane treatment to provide your crew with the safety tips they need to keep themselves safe and active. But it's also good for business. And it's the law.