Sally Benson March 15, 2017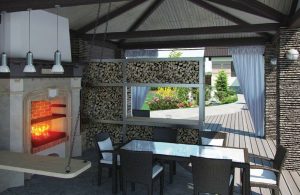 At the beginning of each year, we can rely on a few evergreen events: resolutions to lose weight or save money; predictions of celebrity weddings and/or breakups; and lists of trends. It's the trends we care about here, especially as they pertain to the green industry. Do you really care that W magazine has predicted bows, stripes and "a voluminous architectural shoulder and sleeve" to be the going things in 2017? Thought not.
So, from the National Association of Landscape Professionals, we have the following trends to a) look forward to; b) participate in; and/or c) drive to help create an ever more vibrant and growing industry.
1. Going green with all types of greenery. Vibrant green will take center stage in landscapes this year. Combining greenery of various textures and shades, such as a formal hedge of green velvet boxwood, a border of green lilyturf and dense Boston ivy-covered trellises, is just as impactful as a garden filled with a rainbow of colorful flowers. Don't forget that Pantone has deemed "Greenery" its Color of the Year.
2. Bringing "hygge" outdoors. C'mon. Seriously? To those of us who were raised by Scandihoovians, this is simply a lifelong thing, not a trend. (Someday I'll pronounce it for you.) But according to the NALP, homeowners have become more interested in holistic landscapes that promote well-being. The Danish concept of hygge is all about creating an atmosphere of coziness by embracing the simple pleasures of life. Decorating with light, arranging seating for close-knit conversation, planting aromatic flowers and adding water features to encourage mindfulness are a few ways to integrate hygge into landscapes, and to find more enjoyment and fulfillment in outdoor spaces.
3. Creating tech-savvy exterior kitchens. With the outdoor living trend here to stay, more homeowners are investing in exterior kitchens than in years past. Well beyond basic grilling stations and dining sets, these full-scale kitchens marry the enjoyment of the great outdoors with indoor conveniences. Today's outdoor kitchens can be equipped with "smart home" technology – for example, built-in consoles on refrigerator doors, mobile app-controlled LED lighting and ovens integrated with Wi-Fi. For an exercise in contradiction, see No. 2, above. (Plus, see the comments in this issue's profile [page 16] to read a different take on this.)
4. Mixing up materials. Anything but uniform, more landscapes in 2017 will feature the integration of several forms of hardscape materials. From pebble paths bookended with stone planters to wooden decks adorned with iron gates and railings, smart pairings of materials can create a less formal and more playful approach to landscapes.
5. Prioritizing pollinators. Increased attention on the importance of pollinators to our ecosystem has inspired homeowners to develop gardens that specifically attract vital honeybees, hummingbirds and butterflies. More homeowners are asking landscape professionals how to select native plantings that are abundant, year-round nectar sources throughout their yards.
6. Growing "smart" lawns. Through selective breeding of plants, turfgrass seed producers have made significant advancements in developing cultivated grass varieties that are designed to be smarter. They can better withstand the elements while still delivering an aesthetically beautiful and healthy lawn, making them especially desirable in drought-prone areas.
7. Taking landscapes to new heights – and unusual places. The commercial landscape industry first pioneered "green roofs" atop city skyscrapers. Now, we're seeing green roofs and living gardens in unexpected settings, such as ballpark restaurants or even double-decker buses. Homeowners are thinking above the ground level when it comes to their landscapes, too.