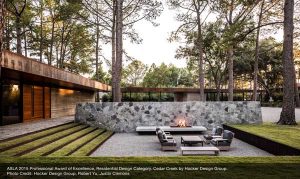 ASLA 2015 Professional Award of Excellence, Residential Design Category. Cedar Creek by Hocker Design Group. Photo Credit: Hocker Design Group, Robert Yu, Justin Clemons
Sustainable design is the big trend for residential landscapes, according to the 2016 Residential Landscape Architecture Trends Survey conducted by the American Society of Landscape Architects (ASLA).
The top trend—rainwater/graywater harvesting—reflects a growing consumer demand for beautiful residential landscapes that also save water. Landscape architects were asked to rate the expected popularity of a variety of residential outdoor design elements in 2016. The survey was fielded February 4 through February 18, 2016, with 803 responding.
Respondents expected the greatest demand for outdoor living spaces that are environmentally sustainable, reduce water costs and are low maintenance.
Here are the top ten project types with the expected highest consumer demand:
Rainwater/graywater harvesting – 88%
Native plants – 86%
Native/adapted drought tolerant plants – 85%
Low-maintenance landscapes – 85%
Permeable paving – 77%
Fire pits/fireplaces – 75%
Food/vegetable gardens (including orchards, vineyards, etc.) – 75%
Rain gardens – 73%
Drip/water-efficient irrigation – 72%
Reduced lawn area – 72%
Water-focused design elements dominated this year's top ten list and reflect consumers' growing commitment to landscapes that reduce water use and stormwater runoff, says Nancy Somerville, Hon. ASLA, executive vice president and CEO of ASLA.
"Water issues are hot topics for many communities, and many people are turning to landscape architects for creative green infrastructure solutions," said Somerville. "Sustainable residential landscape architecture, if part of a broader integrated site design, can dramatically reduce water usage and stormwater runoff over the long term while creating a healthy residential environment."
Read more: Bringing the Living Room Outside from Turf Design Build Magazine
The top three most popular outdoor design elements include fire pits/fireplaces (75 percent), lighting (67 percent) and wireless/internet connectivity (66 percent).
The top landscape and garden elements include native plants (86 percent), low-maintenance landscapes (85 percent) and food/vegetable gardens (75 percent). Pergolas (51 percent), decks (47 percent), arbors (44 percent) and fencing (44 percent) are expected to be the most popular outdoor structures.
The hottest sustainable design elements include rainwater/graywater harvesting (88 percent), native/adapted drought tolerant plants (85 percent) and permeable paving (77 percent).
The most popular outdoor recreation amenities for 2016 will include sports courts (41 percent), spa features (40 percent) and swimming pools (36 percent).
Outdoor Design Elements
Ranked in expected order of popularity for 2016
Fire pits/fireplaces – 75%
Lighting – 67%
Wireless/internet connectivity – 66%
Seating/dining areas – 64%
Outdoor furniture – 63%
Planters, sculptures, garden accessories – 56%
Grills – 54%
Counter space – 50%
Outdoor heaters – 47%
Stereo systems – 40%
Movie/TV/video theaters – 38%
Utility storage – 35%
Sinks – 33%
Refrigerators – 31%
Outdoor cooling systems (including fans) – 29%
Showers/baths – 29%
Hammocks – 21%
Bedrooms/sleeping spaces – 11%
Outdoor Recreation Amenities
Ranked in expected order of popularity for 2016
Sports courts (tennis, bocce, etc.) – 41%
Spa features (hot tubs, Jacuzzis, whirlpools, indoor/outdoor saunas) – 40%
Swimming pools – 36%
Labyrinths – 11%
Landscape/Garden Elements
Ranked in expected order of popularity for 2016
Native plants – 86%
Low-maintenance landscapes – 85%
Food/vegetable gardens (including orchards, vineyards, etc.) – 75%
Rain gardens – 73%
Water-saving xeriscape or dry gardens – 68%
Organic gardens – 64%
Plant walls/vertical gardens – 61%
Rooftop gardens – 55%
Decorative water elements (ornamental pools, fountains, splash pools, waterfalls, grottos, water runnels or bubblers) – 46%
Ponds/streams – 29%
Outdoor Structures
Ranked in expected order of popularity for 2016
Pergolas – 51%
Decks – 47%
Arbors – 44%
Fencing – 44%
Porches – 40%
ADA accessible structures (ramps, bars, shelving, etc.) – 38%
Pavilions – 33%
Play structures (treehouses, swing sets, etc.) – 31%
Utility sheds (tool sheds, garden sheds) – 28%
Gazebos – 24%
Sustainable Elements
Ranked in expected order of popularity for 2016
Rainwater/graywater harvesting – 88%
Native/adapted drought tolerant plants – 85%
Permeable paving – 77%
Drip/water-efficient irrigation – 72%
Reduced lawn area – 72%
Recycled materials – 61%
Solar-powered lights – 56%
Compost bins – 45%
Geothermal heated pools – 28%