Sally Benson — March 11, 2015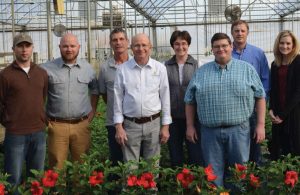 If you had the opportunity to build your dream, what would you do? Invest in time travel? Conquer the stock market? Retire in comfort to a tropical isle?
Well, if you're Jim Berry, you start a new business.
For nearly 40 years, the Texas-born plantsman has been developing and growing plants, always eager to find the best genetics and to fill a unique niche in the market. Throughout his decades in the horticulture industry, Berry has endeavored to produce the very best shrubs—those with superior vigor, outstanding ornamental characteristics and solid market potential. Much of this work was done in Alabama, when he was employed by Flowerwood Nursery and Plant Development Services Inc., but he's since returned to Texas to establish his own operation.
A new start
In 2006, after 25-plus years out of state, Berry founded J. Berry Nursery in Grand Saline. Situated in East Texas, Grand Saline is, according to Berry, "an historic nursery area. It used to be the rose capital of the world," Berry claims. The town of Tyler, home of the Texas Rose Festival, is only about 30 miles to the southeast; Dallas and Fort Worth are slightly more than an hour west.
With the encouragement of his son and partner, Jonathan, Berry put down roots on the site of the former Hawkins Nursery. "We liked the looks of [the property] because it had infrastructure that we could put into production immediately," he says. "We liked the availability of water; we liked access to the Fort Worth/Dallas metroplex."
The nursery business is in Jonathan's blood—he's been part of the industry all of his life, Jim says—and he holds a degree in economics from Tulane. Couple that with Jim's decades of experience and background in production innovation, and a new family business was bound to be the result. Still, a new start isn't easy, and Berry knows that keen insight, careful planning and a bit of serendipity all may contribute.
"We were fortunate that I had name recognition with Home Depot," Jim explains. "I also had relationships with the Conard-Pyle company that allowed me to obtain a Knock Out™/Drift™ license to propagate."
A sound business plan got J. Berry Nursery up and running. "Those factors all came into bearing and we were off to a real fast start in 2006," Berry says. "We'd been studying the market opportunities and thought that Texas had an economy that we could be successful in. We viewed the Texas market as pretty commoditized," which left the door open for unique, highquality shrubs. "With a vibrant economy, we imported plants from coast to coast to meet the needs of the Texas market.
"I think I couldn't have done it on my own, and I don't think that Jonathan could have done it on his own, but together we were able to get started," Berry concludes. "Then Home Depot took us on as a vendor, and we were heavily involved in the Knock Out rose business for quite a while. We popped out a lot of very high quality Knock Out roses that were needed for the market."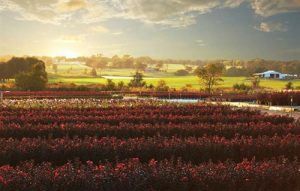 Acres of J. Berry Nursery's Black Diamond™ crape myrtles greet marked name Déjá Bloom™, as well as the sun at the nursery's Grand Saline location in Texas.All photos Courtesy of J. Berry Nursery
The J. Berry brands
Functioning as a licensed grower for branded products can provide a measure of stability for a nursery, and many companies have thrived on such programs. J. Berry Nursery produces a line of groundcovers for a group of independent garden centers, and continues to work with premium rose programs. But product innovation is Jim Berry's passion, and he wanted to serve the market with fewer commodity plants and more specialty selections. The result—so far—is three lines of flowering shrubs, all developed and marketed under the J. Berry Nursery name.
The distinctive Black Diamond series of crape myrtles features dramatic, almost inky foliage that provides a unique foil for brilliant, jewel-toned blooms. The original group of five cultivars was developed in cooperation with the USDA.
"We worked with the USDA on the breeding phase and the evaluation/trial period, and then launched them into the market in September of 2012," explains Berry. "The scientist was Dr. Cecil Pounders at the Thad Cochran Southern Horticultural Laboratory in Poplarville, Mississippi. For the first year we co-branded with their names, but today it's exclusive to Black Diamond. That's a trademark that we own." The series includes 'Pure White', 'Best Red', 'Blush', "Crimson Red' and 'Red Hot'.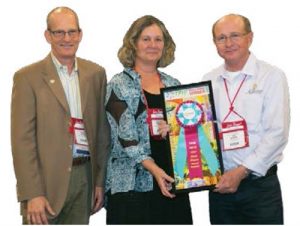 J. Berry Nursery received the award for Best 10 x 10 Booth at the TPIE Show in Fort Lauderdale in January, as well as the "Cool New Product" award for the company's Patio Party™ hibiscus.
More selections are on the way, including 'Purely Purple', 'Mystic Magenta' and 'Shell Pink'. "This year, we'll have three new additions to the color palette, and those originated from my breeding," Berry says. The regional launch is scheduled for mid-summer to fall of this year. "Because we don't do comprehensive distribution across the crape myrtle market," Berry explains, "it'll be Texas, Tennessee, Kentucky, Kansas, Missouri, Oklahoma, Arkansas and Louisiana, through a broad assortment of retailers." Most of the rollout will be 3-gallon sizes, but, Berry says, "We'll have our first crop of 7-gallons this summer, and we realize that we've got to get larger sizes out there so that the landscape supply sector will be satisfied."
The company also produces a line of reblooming azaleas under the trademarked name Déjá Bloom™, as well as Patio Party™ hibiscus, a relatively new series of tropical hibiscus. All three brands, which are suitable for unique seasonal color, are marketed in some Northern states under the On-the-Go Patio™ umbrella brand, also developed by J. Berry Nursery. Berry would like to see the brands extend further and, he says, "We're actively seeking licensed growers; we're open to licensing all of our brands."
The newer Patio Party brand is the result of Berry's experience and a happy relationship with a French breeding company. "One of their specialties is tropical hibiscus," Berry says, "and I've been breeding tropical hibiscus for five years. My objectives are exotic flowers, high bud count, excellent foliage, disease resistance and branching structure."
The brand recently received a warm welcome at the TPIE show in Florida in January. "Patio Party was selected by a panel of independent garden center owners and operators as one of the 15 coolest products. So it was quite a debut for us and our products," Berry beams.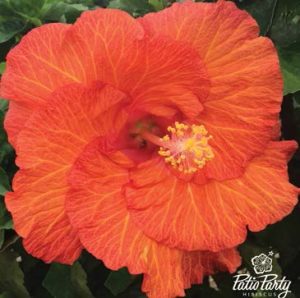 J. Berry Nursery's Patio Party™ line of tropical hibiscus often serves as the "thriller" in mixed containers. Shown here is 'Best Friend'.
Focusing on retail
Knowing your product and your market is, of course, key to any successful business. Early on, Berry elected to concentrate on growing for retailers. That approach includes contracts with Big Box stores as well as independent garden centers.
"We're pretty much retail focused. We don't turn landscape business away, but our product offering has just evolved tailored to retail. The larger retailers view us as a specialty grower," Berry explains. "We don't grow commodities; they have suppliers that grow commodities. So they look for innovation from us, and we grow a limited number of items as part of their program. I try to look for high-value product—clematis, oakleaf hydrangea, and more recently it's the Black Diamond crape myrtles.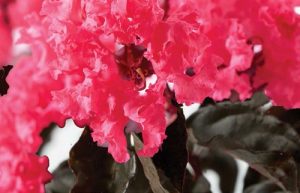 Black Diamond® crapemyrtle blooms range from 'Purely Purple' and 'Shell Pink' (pictured) to 'Red Hot' and 'Pure White'. All flower colors are highlighted by the brand's deep foliage.
"We've learned that you need to ship retail-ready product in the store at the appropriate level," he continues. "And it really does fit in with my overall philosophy: That we need to serve the market, the people who are shopping. So if we stay focused on the end consumer, delivering them value and long-term success, then we're pretty secure."
Zeroing in on the retail customer has proved to be a successful strategy for the young company, but it's not without its challenges, both in terms of adapting to working within retailers' requirements and learning who those consumers are, and what they want.
"We're faced with the changing demographics and trends, so we're trying Continued from page 17 Rich, dark foliage is a distinctive, distinguishing characteristic of J. Berry Nursery's branded Black Diamond® crapemyrtles. 'Mystic Magenta' is pictured here. Black Diamond® crapemyrtle blooms range from 'Purely Purple' and 'Shell Pink' (pictured) to 'Red Hot' and 'Pure White'. All flower colors are highlighted by the brand's deep foliage. to recognize the new consumer, the consumer of the future, and the way they live their lives," Berry says. "The future's certainly going to be different from the past.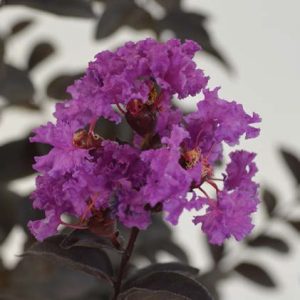 "Young people are living in much more dense urban environments, and they quite often are very fluid in where they live. So we think they have small spaces, a patio or a deck or a window, and that they're liable to move. And they like to nurture, so they want to be able to take their plants with them. Container gardening is here to stay."
But how does a grower assess what the new consumer will want, or need? You study, you listen to younger employees, and you learn to trust your instincts. "We're not real sophisticated," Berry claims. "Horticulture is an art and a science, so to be a horticulturist you need to have an outlook on life of what is beautiful. And you marry that with the scientific capability of producing it and evaluating the status of its ability to thrive in the environment. I find plants I like, and if I think it's really good, I grow a lot of them."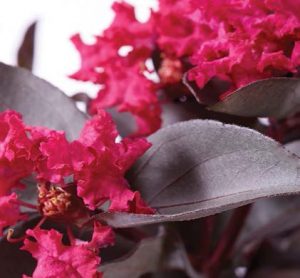 Rich, dark foliage is a distinctive, distinguishing characteristic of J. Berry Nursery's branded Black Diamond® crape myrtles.
Surviving—and thriving
Jim and his son Jonathan started a new business in 2006. They soon were joined by another son, Benjamin, who studied horticulture at Auburn University and spent time working in nurseries in Europe. Then in 2007, the Great Recession hit. The housing market tanked, banks failed, green industry businesses struggled. Many of them did not survive.
So how did a new company manage to hold on, much less grow and thrive?
"Well, it's not been easy," Berry admits. "Of course, the Knock Out license that I had gave me a very valuable license to produce a highly appreciated product.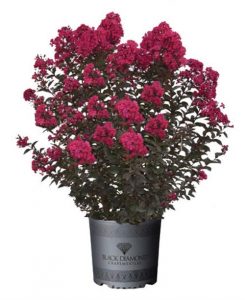 'Mystic Magenta' is pictured here.
"We knew we were too heavily invested with one customer and one product line, so we attempted diversification by acquiring Westlake Ace Hardware and Calloway's Garden Centers, and then we developed the Black Diamond crape myrtle and identified a range of clematis and oak leaf hydrangeas. And now we're on the verge of what I think is a very significant project with these Patio Party hibiscus."
Berry credits his staff for keeping him on his toes and for keeping the company ahead of the game.
"You know, I'm not a spring chicken, but I have a young staff and I value that young staff," he says. "They're contemporary and they can move mountains through technology, and they can lean on my accumulated knowledge base, and I get to do what I want to.
"I've been fortunate to identify some key players: a good production manager, good leaders out in the field, competency in the office and in marketing. The level of technology required to do business with today's technologically savvy retailers is something I don't understand, but I've got people who do. I've come to respect everyone's opinion. Collectively, we make pretty good decisions."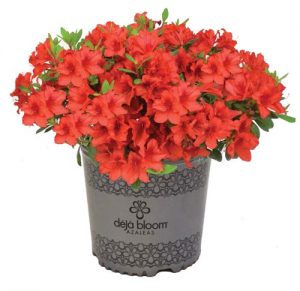 'Red Tiara' is just one of J. Berry Nursery's repeat blooming Déjá Bloom™ azaleas. Others include 'Fuchsia Parasol', 'Pink Jewel', 'Cherry Piñata' and 'Orchid Showers'.
Berry acknowledges his good fortune. "We've been real blessed, I'll tell you. It's been hard work, but we're seeing the light at the end of the tunnel. We established J. Berry as bringing innovation to the market. And I think we still operate on that mind set."
What's been critical all along has been J. Berry Nursery's willingness to listen and learn, as well as lead. Staying nimble, keeping an eye on the consumer and being willing to adjust to new technologies all help. Or, as Berry says, "Differentiating; assessing the market and determining what's needed — and what's not available. And then working real hard to identify the genetics, present them in a retail-ready way, appropriately addressing branding and style. Staying consumer focused.
"I've always said that if I could create my own future, I might as well do that. If I can lead the market, why follow it?"