Sally Benson — February 9, 2015
Good news on the home front (always wanted to say that!): Existing- home sales "bounced back" in December,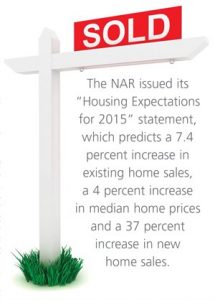 according to the National Association of Realtors (NAR), causing the rate of sales to climb above an annual pace of five million sales for the sixth time in seven months. There had been a slight dip in November, which is not entirely surprising: Not many people think about househunting on Black Friday, when there are blockbuster bargains to be had at Target. What's worthy of pointing out, however, is that the rate increased in December. It's cold in at least half of the country, and it's the holiday season. But let's not question a good thing.
Comparing the numbers for 2014 with those for 2013, we see there was a slight decline. Hmmm. The NAR says, "Median home prices for 2014 rose to their highest level since 2007, but total sales fell 3.1 percent from 2013." Let's concentrate on the clause that says, "… highest level since 2007 … ."
And let's listen as the NAR further states, "Total existing-home sales … rose 2.4 percent to a seasonally adjusted annual rate of 5.04 million in December from a downwardly- revised 4.92 million in November. From a year ago, December sales were higher by 3.5 percent and are now above year-over-year levels for the third straight month."
The NAR goes further and predicts that 2015 will see an increase in existing-home sales, by about 7 percent over 2014. The reason? "A strengthening economy, solid job gains and a healthy increase in home prices," according to NAR Chief Economist Lawrence Yun. An anticipated rise in interest rates may temper the acceleration; still, growth is expected.
In fact, the NAR issued its "Housing Expectations for 2015" statement, which predicts a 7.4 percent increase in existing home sales, a 4 percent increase in median home prices and a 37 percent increase in new home sales. That's a telling number: Where increasing home sales as a whole may be a positive sign, a significant increase in new home sales bodes well for the green industry.
There are roadblocks, of course, and a few of those include rising mortgage rates and constraints for first-time home buyers. Those first-time buyers are probably the proud new homeowners who'll need a lot of help with their landscapes. But look at it this way: Those older buyers, who already know the value of the landscape that surrounds their domicile, need help, too. Their knees are aching. Their backs are giving out. I know: I've got the orthopedist's bills to show for it.
It's tempting to play with statistics, to skew them whichever way you'd like. And there are some caveats to reading the numbers, as in, let's not get a case of the whoopies because we like what we read. But all in all, the prognosis for the housing market seems to be looking up.