Jonathan Lehrer — June 1, 2011
The introduction of new cultivars heralds an aspidistra renaissance, with selections that offer spots, stripes, frosts and gorgeous greens.
The pure white frost that tips the leaves of the classic Japanese cultivar A. elatior 'Asahi' lends a certain vitality to a dreary landscape, but its dramatic tone may fade if the plant is newly divided. A newer cultivar called 'Snow Cap' (above) bears more reliable variegation.
COURTESY OF PLANT DELIGHTS NURSERY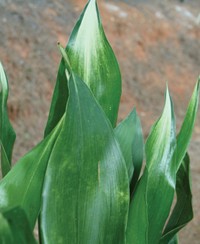 How can we expect people to respect aspidistra (Aspidistra elatior, cast-iron plant) if aspidistra does not respect itself? A stubborn survivor, this herbaceous perennial from Japan has long been the butt of Western insult. It debuted as a tortured container plant in the dusty, drafty parlors of Victorian England and became a maligned icon of literature and song. A forgiving character, aspidistra sought refuge at the local pub only to serve admirably potted in a spittoon.
The barroom plant escaped across the Atlantic in the mid-19th century to become a staple of southern horticulture (zones 7 to 10). It is here that the slowly spreading clumps of broad, glossy evergreen foliage (to 36 inches tall and 6 inches wide) add a quiet touch of greenery when planted beneath the lumbering canopies of ancient live oaks (Quercus virginiana) and southern magnolias (Magnolia grandiflora).
These last 150 years of exile in America have been quiet times for the aspidistra. While interior decorators, flower arrangers and some upscale sushi restaurants have sought to utilize the foliage, the time is ripe for landscape horticulturists to rediscover the species and appreciate its quiet virtues. Why should such a seemingly uninspired plant be lifted from the darkness? Simply put, the introduction of new cultivars means aspidistra no longer has to be boring, and its legendary toughness is well-suited to contemporary landscape challenges – such as dense shade and dry soil.
Sometimes assigned to the species Aspidistra lurida, 'Ginga Giant' boasts a galaxy of yellow spots on 24-inch-tall leaves.
COURTESY OF PLANT DELIGHTS NURSERY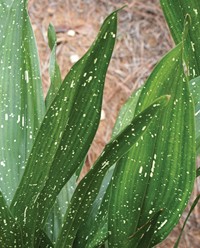 One secret to the success of this distant lily relative (now placed in the family Ruscaceae) is a thickened, branched storage rhizome that creeps slowly and steadily beneath the surface of any well-drained soil. Unbothered by pests, aspidistra's only Achilles heel is sustained, sub-freezing temperatures. It should be noted, however, that two specimens growing in my Long Island, N.Y. garden (Zone 6/7) have emerged unscathed from the last two winters. I believe experimentation with this plant in warm microclimates north of the Mason-Dixon Line is warranted.
Credit where credit is due
Credit for the recent upsurge in aspidistra interest should be assigned primarily to Barry Yinger of Asiatica Nursery in Lewisberry, Penn. (now closed) and Tony Avent of Plant Delights Nursery in Raleigh, N.C. Yinger introduced to Western horticulture many classical selections of aspidistra long-cherished in Japan and elsewhere throughout Asia. He also corrected longstanding errors in cultivar nomenclature. From his base in the South, Avent has also worked tirelessly to popularize aspidistra by propagating (by simple rhizome division) and disseminating both Yinger's selections and myriad others discovered by a network of contacts. What follows is a brief distillation of these cultivars to illustrate the diversity present within Aspidistra elatior and its vast horticultural potential.
Cultivars with green leaves
A classic Japanese cultivar known as 'Amanogawa' features both yellow spots and random slashes of yellow and white across its foliage.
COURTESY OF PLANT DELIGHTS NURSERY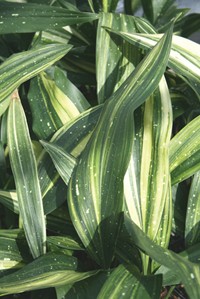 While the plain Jane aspidistra is handsome enough with its spreading swords of green foliage, several variations on the theme are available. 'Lennon's Green' may be considered a dwarf cultivar, since clumps seldom exceed 24 inches tall with leaves half the width (3 inches) of the regular species. This plant was selected by Robin Lennon, a cut-foliage grower in Florida, and brought to market by Avent and Plant Delights. I obtained my specimen several years ago and enjoy its more upright foliage presentation in the manner of an iris. This unique texture could be employed as a foil to bold plants with rounded leaves, such as hostas (Hosta spp.) and Farfugium japonicum (syn. Ligularia tussilaginea; leopard plant), a wonderful species that shares the aspidistra's preference for shaded sites and warm, humid climes.
For those who yearn for a bolder green aspidistra, Plant Delights Nursery is happy to oblige with the aptly named 'Bubba'. This cultivar rises to at least 3 feet tall with broad foliage that may exceed 6 inches in width. Whether 'Bubba' owes its bloated dimensions to steroids or good genes is subject to debate, but its suitability as a bold garden specimen, container subject or companion to lacy neighbors such as Cyrtomium spp. (holly fern) is a certainty.
Cultivars with spotted leaves
Tiny yellow spots are sprinkled lightly among dark green leaves of 'Hoshi Zora', which means "starry sky." The vigorous plant can reach to 36 inches tall.
COURTESY OF PLANT DELIGHTS NURSERY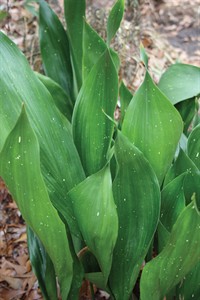 The core of diversity within Aspidistra elatior rests among cultivars with foliar variegation. The species offers a gallery of artful leaves painted in various styles including spotted, frosted, striped and combinations thereof. Spotted types such as 'Ginga' (meaning "galaxy") feature a constellation of small yellow freckles splattered like paint across the leaf surface. This dwarf clumping cultivar (to 12 inches tall) is familiar to many as 'Milky Way', a misapplied name for a selection that has long been a staple of the potted plant trade and the most common commercial aspidistra.
'Milky Way' properly refers, however, to another classic Japanese cultivar known as 'Amanogawa'. This selection is unique, as it features both yellow spots and random slashes of yellow and white across the foliage. Still another Japanese form called 'Sei Ryu Ho' ("green dragon hall") displays more linear yellow freckles, faint hazy streaking and raised leaf veins. Finally 'Ginga Giant', a form selected recently by Robin Lennon and introduced by Plant Delights, raises 'Ginga' to new heights – about 24 inches tall, actually. It should be noted that this aspidistra quartet expresses reduced cold hardiness (zones 8 to 10) and has sometimes been assigned to a different species, Aspidistra lurida. All serve admirably, nonetheless, in colder climates as summer subjects for shaded patio containers and are easily overwintered, like any aspidistra, as ultra-reliable houseplants.
Aspidistra elatior 'Lennon's Green' may be considered a dwarf cultivar, since clumps seldom exceed 24 inches tall with leaves half the width (3 inches) of the regular species.
COURTESY OF PLANT DELIGHTS NURSERY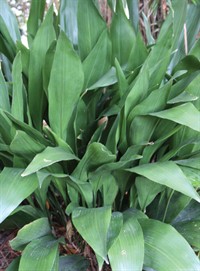 There is no confusion regarding the allegiance of 'Hoshi Zora' ("starry sky") to A. elatior. This regal Japanese cultivar is a personal favorite, not only for its vigor and large size (to 36 inches tall), but especially for the restrained presentation of tiny yellow spots sprinkled lightly among dark green leaves. Folks who grow queasy at the mere sight of bold plant measles – associating them with disease or virus – may find 'Hoshi Zora' easier to stomach. Try to utilize this selection where its spots will echo the yellow blooms or golden leaf variegation of companion plants such as sedges (Carex cvs.). Do not hold a vigil for the appearance of its blooms, however. Like those of many aspidistra, the flowers are inconspicuous productions hidden at ground level for appreciation by ants, slugs and passing mice.
Cultivars with frosted leaves
Some selections of A. elatior present variegation not as isolated spots, but rather a haze of white or creamy dust that suffuses the entire leaf in a fog or completely bleaches regions to white. These special effects are soft on the eyes and lend vitality to dreary areas of the landscape, especially when viewed in the fading light of dusk. The standard-bearer for this group of cultivars is 'a' ("morning sun"), an old Japanese form in which the upper third of the leaves is flushed pure white, like candle flame. It grows to about 30 inches tall and is notorious for failing to color properly in containers or when newly divided, and for losing its magic on older leaves. A newer form known as 'Snow Cap' rights these wrongs and grows taller, to perhaps 36 inches. While my young, 6-inch potted specimen has already produced beautiful ivory leaf tips, I am afraid the limited availability and high price of this cultivar will slow its commercial ascent.
A bold green aspidistra named 'Bubba' rises to at least 3 feet tall with broad foliage that may exceed 6 inches in width.
COURTESY OF PLANT DELIGHTS NURSERY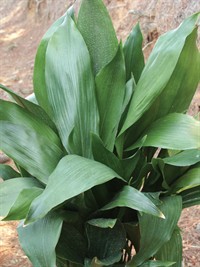 Additional aspidistra cultivars featuring frosted foliage include 'Morning Frost', with young leaves overlaid by pale, creamy dusting to complement muted yellow stripes. The hazy markings sadly begin to fade as the 36-inch-tall leaves age, and the overall effect of a mature clump is uninspiring. Horticulturists should instead seek 'Sekko Kan' ("white snowy crown"), a Japanese cultivar introduced to the United States by Yinger some years ago. This selection is worthy of superlatives with its 30-inch, leafy spears vividly adorned with broad, white streaks and white frosting that bleeds across the foliage. While each leaf is different and several years may be required for the brushstrokes to mature, this cultivar is worth the wait. Few plants are better suited to brighten bare ground beneath dense tree canopies where most species – especially interesting ones – dare to tread. True aspidistra aficionados (yes, there are a few) may also pursue 'Mangetsu' ("full moon"), a classic Japanese form brought to the U.S. by Yinger that is a Holy Grail among collectors. Its white frosting and white stripes interlace in a complicated mosaic that must be seen to be fully appreciated.
Cultivars with striped leaves
Among the most familiar of aspidistra, the cultivar 'Okame' (also known as 'Variegata') displays bold white striping that varies greatly within an individual clump and markedly between specimens.
COURTESY OF PLANT DELIGHTS NURSERY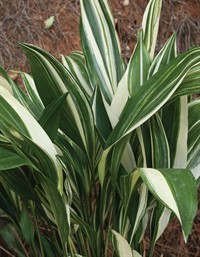 Aside from the dwarf, spotted cultivar 'Ginga', the most familiar selection of Aspidistra elatior is an antique striped form known as 'Variegata'. This plant joined its green cousin in 19th century England and held special favor as "the barbershop plant" long before modern Japanese introductions. Since the use of Latinate cultivar names such as 'Variegata' is now frowned upon, Yinger has successfully reunited this plant with its classic Japanese moniker, 'Okame' (referring to a "highly decorated festival fan"). Under any name the leaves are beautiful, if decidedly unstable, with bold white striping that varies greatly within an individual clump and markedly between specimens. Do multiple clones exist under the same label? It's food for thought, but more pertinent to horticulturists is the availability of additional distinct cultivars with beautifully striped foliage.
In several selections, longitudinal variegation is limited to the center of the foliage, a design that may please observers who find random variegation too visually jarring. The most prominent of these forms is 'Akebono' ("daybreak" or "new dawn"), which resembles the regular species but for the presence of thin, yellowish stripes. These slashes may occur throughout the leaves on recently divided specimens but settle down with age along the midrib.
Black-green leaves of 'Fuji No Mine' are pierced down the center by a creamy yellow shaft of light. An additional crisp border of white coats the upper leaf margin like a crust of snow.
COURTESY OF PLANT DELIGHTS NURSERY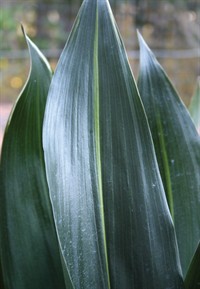 I have been more pleased, however, with 'Lennon's Song', another selection made recently by Robin Lennon and introduced by Tony Avent through Plant Delights Nursery. It is more compact (to 24 inches tall), with narrow, upright foliage painted with a central streak of limy yellow. 'Lennon's Song' could feature wonderfully in the shaded woodland garden as an unimposing anchor plant with four-season interest. A more regal presence, to 36 inches tall with 5-inch-wide leaves, is offered by 'Fuji No Mine' (meaning "crags on Mt. Fuji"), another gift to Western horticulture from Barry Yinger. Its black-green leaves are pierced down the center by a creamy yellow shaft of light. An additional crisp border of white coats the upper leaf margin like a crust of snow. The only other A. elatior selection with true marginal leaf variegation is 'Tu Ryu Mon' (meaning "climb the dragon gate"), a collector's plant with marginal landscape interest and a hefty price tag.
Consumers in the market for a plain green potted aspidistra (a small fraternity, to be sure) may happen upon specimens with leaves bearing random yellow stripes. While I have been unable to determine the origin of this inconspicuous variegation, it does not appear to improve following years of cultivation. The Yinger cultivars 'Goldspike' and 'Stars and Stripes' more reliably display a pattern of gilded gold on tall, upright leaves 36 inches tall and 3 to 4 inches wide. 'Stars and Stripes' in particular is quite handsome, since the markings swirl throughout the leaves and mesh seamlessly with a green background highlighted by random creamy spots. Both forms are vigorous growers and cover ground quickly, at least for an aspidistra. Their marriage of classic reliability with modern highlights captures the essence of Aspidistra elatior in the 21st century.
An old plant can learn new tricks.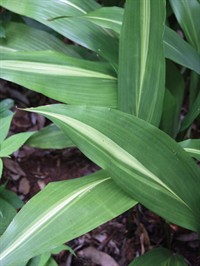 A compact plant with narrow, upright foliage painted with a central streak of limy yellow, 'Lennon's Song' could feature wonderfully in the shaded woodland garden as an unimposing anchor plant with four-season interest.
COURTESY OF PLANT DELIGHTS NURSERY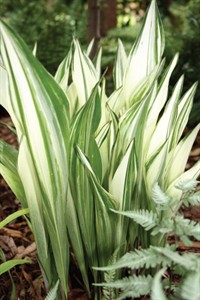 Introduced to the U.S. by Barry Yinger, the Japanese cultivar 'Sekko Kan' is highlighted by broad, white streaks and white frosting that bleeds across the foliage.
COURTESY OF PLANT DELIGHTS NURSERY
Jonathan M. Lehrer, PhD, is an assistant professor in the Department of Ornamental Horticulture at Farmingdale State College on Long Island. He may be contacted at [email protected]