ally Benson — August 13, 2015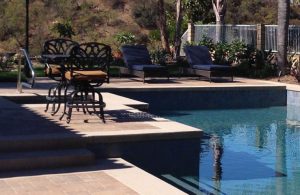 What a mess.
When retired police officer Richard Coates hired a landscape company to renovate his southern California back yard, he was careful to verify the company's licensing as well as its portfolio. He accompanied the owner on a tour of previous job sites and was impressed with the quality of work. Everything appeared to be legit. This was not just two guys and a pickup; it was an established company, with the current owner having taken over for his father. "He was a really nice guy," Coates adds. It all looked good.
That is, until work began.
When the original demolition crew was dismissed, the pool hadn't been drained.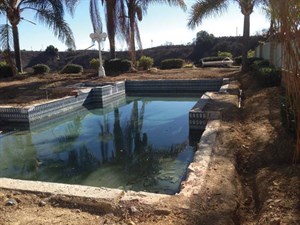 Renovation interrupted
Having lived in his home for about 20 years, Coates had decided it was time for a backyard update. The pool needed to be repaired and its concrete deck was cracked; the patio cover hosted dry rot and termites, and it was time for a new entertainment center and outdoor kitchen. "We were really going to do it up right," Coates says.
Coates visited the website Houzz.com and reviewed a number of offerings before he selected his favorite. "The work that he had done was pretty much exactly what we were looking for," Coates explains. "He was a local guy, he did great work. So we met with him, and he seemed like just the super nicest guy.
"I checked his license on the Internet," he continues. "He said he'd come over with some plans and a contract. Now, I don't know a whole lot about contracts or what a contractor can or cannot do, or what they require or what they don't require. But we signed the contract and he asked for an initial down payment of $6,000. Subsequently, I found out that he can't do that."
So far, none of this sounds unusual. Homeowners searching for professionals can turn to myriad sources, including the Web, and this particular client did exactly what so many do. In fact, he was careful to go further than many laypeople do – he'd done some construction work back in the day, so he was familiar with licensing and with many of the technical aspects of demolition.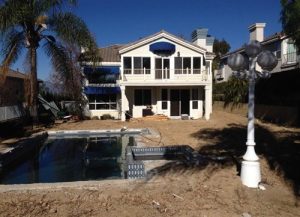 Before – The old pool needed updating and repair; following a rocky start, the new water feature is a highlight of the property for the homeowners, their friends and family.Photos courtesy of Snyder & Associates
"The guy seemed really squared away," Coates claims. "Maybe a little later on in the project I thought, this is getting a little out of control. But we started demo the next day, everything seemed to go okay, and I met that benchmark payment."
The next step was installing drainage lines, and here's where the project began to go downhill – fast.
"I noticed that these guys didn't even have a set of plans," Coates explains. "It was just a little piece of paper with some rough drawings. I knew a little bit about how you have to shoot elevations, and you have to have a set of plumb lines. So they start putting in the drains, and I can see right away that it's completely wrong."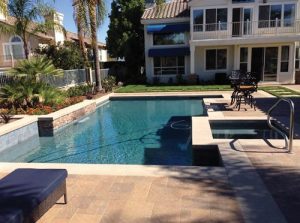 After.
Coates stopped the workers, phoned the contractor and told him that he or his project supervisor needed to make a site visit. "So he came out one day and started them off again, kind of got things going in the right direction, but three days later, I get a knock on my front door and it's the demo guy. And he says, 'Hey, I haven't been paid.' And by this time, I've given the contractor close to $30,000."
Excuse after excuse
Despite the on-time receipt of "benchmark" payments, the contractor simply wasn't doing the job – and he wasn't paying his subcontractors. Coates says he assured the demo worker that he'd get paid – "it's only fair, because he did the work" – and then he tried to track down the contractor, who avoided calls, emails and text messages. After repeated attempts, they connect. "I tell him the demo man was over here, and he says you haven't paid him. So [the contractor] says, 'Oh, well, one of my other clients, they were supposed to give me a check, but they were out of town; don't worry about it' … blah, blah, blah."
Should it be the homeowner's responsibility to follow up? "I did think that was a little unusual, but I'm still thinking this guy's okay," Coates admits. A successful contractor is a busy contractor, after all. Then: "I tell him that his guys are over here working and they don't even have a set of plans. How do you expect them to build something without any plans? And he says, 'Well, I'm trying to set up some forms … and my designer, he just had a baby … ' and this guy's got an excuse for everything.
"So then they start putting in the forms, and he takes another payment," Coates continues. "By now he's got about $38,000, $40,00 from me, and all I've got is a torn up back yard. I'm watching them from inside the house and they do the whole thing wrong. Completely, totally wrong from what my design was going to be."
Once again, the contractor is called. He assures Coates the project supervisor will arrive. The next day, workers show up, and there's no supervisor. Coates says he asked them, "Hey, where's Fernando? And they say, 'Oh, he couldn't come today.' So I said fine, pick up all your tools and get off the job; you're done here."
Another call to the contractor, who, not surprisingly, doesn't respond. "So I start digging a little deeper," Coates says, "and I find when I check his license, it had been suspended the day before he came over to my house to sign and contract and take my money. I mean, the day before. He lost it because he lost his workers' comp and he didn't have his bond.
"Now I'm thinking," he adds, "I'm really screwed, because this guy's got about $40,000 of mine. I had checked his license before [we met], but in the interim, that quickly, he'd lost his license. And all the while I'm saying to him, 'Now listen, I don't want my money going to pay some other jobs.' And he's saying, 'Oh, no, no, I've got an account that's dedicated to your job, don't worry about any of that.' "
Calling for reinforcement
Beyond frustration, out tens of thousands of dollars and left with scorched-earth property, Coates decided to switch gears. Through word of mouth he was referred to Kerry Snyder, who "was more than helpful," he emphasizes. "I ran the story by him and he said there's so many things that [the contractor] did that were not legal, and here's some court cases that you can present to him so that you can show him you've done your homework, and that you know that what he did was not right."
Kerry Snyder says this isn't all that unusual. Snyder, who with his partner owns Snyder & Associates in Orange, California, says that he's a "registered landscape architect who's gone over to the dark side."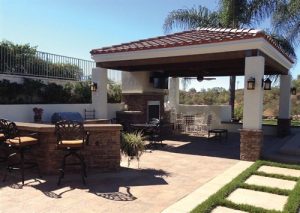 A permanent, covered entertainment center, featuring a fireplace and large-screen TV, anchors the new backyard retreat.
Coates' project is a good example of why Snyder calls it the "dark side: Because we're constantly getting calls from clients like this," who need to be rescued from a bad situation.
"This has happened more than once, where we enter a project and what we see has happened is that demolition has been rushed into," Snyder says. "On this particular case, demo had been done, they'd already started some excavation for drain lines, so we'd already heard that drains were going in with negative flow. But more so, the moment he told us, well, one of the subcontractors – the builder's subcontractor – was knocking on the door asking for money, we knew exactly where this was heading. And the other thing was, this particular contractor, we already knew from a couple other project sites that he was having problems. This is not the first job this contractor was doing this to: He's robbing Peter to pay Paul."
Snyder first consulted with Coates to help him out of the dilemma, providing Coates with information about licensing. "I know the laws," he explains, "I know the articles; I gave him the [information] to show the individual. It's not just for the homeowner to say, 'I'm going to sue you,' but here's proof of what's going to happen to you."
In California, Snyder says, an unlicensed contractor who knowingly takes money on the job site can be accused of committing fraud, because he knows he's not licensed to perform the work. More to the point, an unlicensed contractor wouldn't be able to pull permits legally – and this contractor's license had been suspended by the state.
Coates arranged to meet with the contractor, who arrived at the job site with more excuses. He didn't have the plans because they were still at the printers … he was going through a divorce …
Enough, Coates told him. Armed with Snyder's information and the implied threat of legal action, Coates negotiated a settlement. First, he says, "I told him you make sure you pay the demo guy, and then you're going to give me back every penny." Surprisingly – despite a series of excuses and delays, including an arranged meeting at the bank, where the contractor showed up with $24,000 in cash – Coates recovered his initial investment.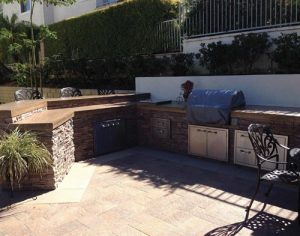 A new outdoor kitchen features stone veneer and polished, poured-in-place concrete countertops.
Wait … what about the project?
With the dismissal of the original contractor, Coates hired Snyder & Associates to complete the job. The design/build contract was similar to the original – minus, of course, the illegalities – entailing a pool remodel, hardscape throughout the yard, a new deck and covered entertainment area, outdoor kitchen and plantings. "Anything that had to do with the outdoors, we did on this," Snyder says.
Despite the initial demolition work, there was a bit more to be done. Snyder's crew had to remove the few drain lines that were installed incorrectly, and then real work began in early spring. The pool was relined and new, poured-in-place coping was installed; grading was altered to allow for a spillway; concrete pavers were set. A new outdoor kitchen was created with block wall and stone veneer, plus poured-in-place, polished concrete countertops. The covered patio structure features a fireplace and large-screen TV.
Coates' dream back yard – the one that began as a nightmare – now provides exactly what he'd hoped for. He admits that he might have been a little too trusting of the first contractor, but how many homeowners would know what they're getting into? He has some remarkably patient words for contractors, and for homeowners looking for professionals.
"One thing I think I would have done, when [the original contractor] was taking me around to show me his work, I never talked to the people he worked for. I should have said, take me to a couple of places that you're currently working on. And I should have spoken with the owners there," Coates offers. But a word-of-mouth recommendation, he says, saved the project.
"I think word-of-mouth advertising is so much more effective than any other way," he explains. "I mean, if somebody is able to say, I have this guy, and he is really great, I think that works so much better.
"The thing that I found with Kerry that I didn't find with the first guy," he continues, "is that communication between the contractor and the client. I don't think I ever made a call, or a text, or an email that wasn't answered. He talked to me right then, or within an hour I had a response from him. To me, that is really, really important, as a client. Even if it's just a simple little silly thing, if you have that communication and that degree of cooperation between the client and the contractor, I think it just goes miles."