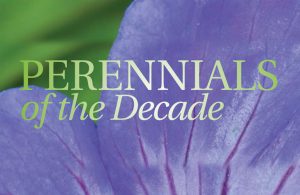 We haven't visited this in a while, so let's take a look at the Perennial Plant of the Year (PPOY) as designated by the Perennial Plant Association (PPA). This time, with a twist. We'll look back at the last decade of PPOY and review the winners, most of which, you'll find, continue to be market standouts.
This year's winner is Geranium × cantabrigiense 'Biokovo', which was featured as an American Nurseryman Field Note in our March issue. The Field Note, by Kathy Freeland, originally appeared in June 2003.
Each year, members of the PPA nominate a number of outstanding perennials for this distinction. It's not unusual for upwards of 400 plants to be nominated in a voting year, and the PPOY committee must winnow down the list to about three or four nominees. PPA members then cast their ballots for the perennial that deserves the designation of Perennial Plant of the Year, which, by the way, is an exceptional way to market the plants you grow and specify.
This is not just a beauty contest. Nominated plants must satisfy specific criteria including suitability for a wide range of climatic conditions; low-maintenance requirements; relative pest-and disease-resistance; ready availability during the year of promotion; and multiple seasons of interest. That's more than just a pretty face.
Here are the PPA's Perennial Plants of the Year for the last decade.
2014 – Panicum virgatum 'Northwind' (PPOY 2014)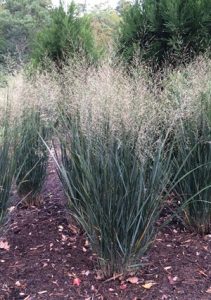 Photo courtesy of Hoffman Nursery Inc.
It's not often that an ornamental grass is selected for recognition, and this one is certainly deserving. Selected by Roy Diblik of Northwind Perennial Farm near Burlington, Wisconsin, it's more reliably upright than other switchgrass varieties, reaching about 4 to 5 feet tall with a spread of 2 to 3 feet. Wide, thick, steely blue blades maintain their good posture even through storm and drought. Come fall, 'Northwind' is topped with graceful, erect plumes.
Hardy in zones 2 to 9; plus, it's deer resistant.
2013 – Polygonatum odoratum 'Variegatum' (PPOY 2013)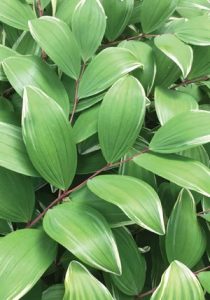 Photo courtesy of Sally Benson
The woodland variegated Solomon's Seal loves part to full shade locations, and brings the darker garden to life with graceful arching stems that support soft green, ovate leaves with creamy tips and margins. In spring, pairs of small, dainty, bell-like white flowers emerge along the length of each stem. The plant spreads by rhizomes and reaches about 18 to 24 inches tall.
Hardy in zones 3 to 8; very few insect or disease problems.
2012 – Brunnera 'Jack Frost' (PPOY 2012)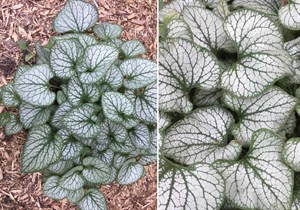 Photos courtesy of Sally Benson
Yet another good selection for shade, 'Jack Frost' Siberian bugloss virtually gleams with silvery highlights on large (3 to 5 inches wide), heart-shaped leaves. In spring, slender stems hold cymes of small, light blue flowers that resemble those of forget-me-nots; flowers reach above the mounded foliage to about 18 inches. Creeping rhizomes encourage 'Jack Frost' to develop thick ground covers, but the plant is also happy in containers or combined with other shade-loving groundcover plants.
Hardy in zones 3 to 8; no serious insect or disease problems, and it's deer and rabbit resistant.
2011 – Amsonia hubrichtii (PPOY 2011)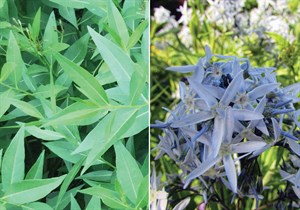 Photo courtesy of Sally Benson
Best when used in mass, Arkansas blue star is a superstar in the full sun to partial shade garden. Medium green, narrow and threadlike leaves create a brushy appearance to this clump-forming plant, which is topped in spring by small, powdery blue flowers forming — you guessed it — clusters of stars. It's easily grown in full sun to part shade. The foliage color is stable throughout summer, but the real show begins in fall, when leaves turn a brilliant, traffic-stopping gold.
Hardy in zones 4 to 9; attracts butterflies and tolerates deer.
2010 – Baptisia australis (PPOY 2010)

Photo iStock | Cameron Whitman
Blue false indigo is such a strong and sturdy perennial it's often mistaken for a shrub, and can provide that service in the mixed sun to partial shade garden. Growing 3 to 4 feet tall with an equivalent spread, in spring its stems hold light to medium purple, lupine-like flowers (some say they resemble the blooms of sweet peas, another member of Fabaceae). The flowers then develop into large seed pods — up to 2.5 inches long — that darken when ripe and provide additional ornamental interest.
Hardy in zones 3 to 9; attract butterflies and children, tolerates rabbits.
2009 – Hakonechloa macra 'Aureola' (PPOY 2009)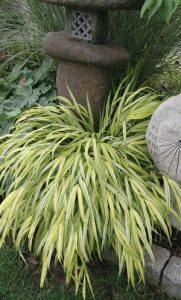 Photo courtesy of Hoffman Nursery Inc.
This petite ornamental grass can add an unusual architectural element to the partial shade garden. Commonly called Japanese forest grass, the 15- to 18-inchtall mound performs well in areas with reliable moisture. Slightly arching, narrow, medium green foliage is highlighted with gold striping, distinguishing 'Aureola' from other Hakone grass selections. In midsummer, yellow-green flowers emerge in loose, nodding panicles.
Hardy in zones 5 to 9; can be planted near black walnut.
2008 – Geranium 'Gerwat' (Rozanne)(PPOY 2008)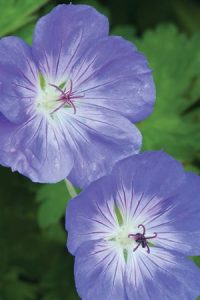 Photo iStock | HaraldBiebel
Rozanne is among the most popular garden plants, and it's easy to understand why. But just because it's already a hit doesn't mean we pass it by. It's easily grown and requires low maintenance — and it provides an extended season of bloom. Violet-blue flowers emerge in late spring and last through summer, but many of the plants continue to bloom through fall. Clean, deep green foliage provides a reliable groundcover. And exceptional heat tolerance make it a bread-and-butter plant for the Midwest.
2007 – Nepeta racemosa 'Walker's Low' (PPOY 2007)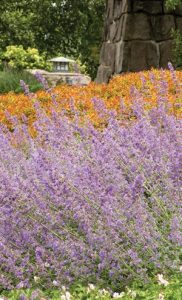 Photo Courtesy of the Doreen Wynja for Monrovia
Drought tolerance and mounds of soft, lavender-blue flowers make 'Walker's Low' catmint a natural for rock gardens, border gardens or naturalized plantings. The name is a little misleading: Plants reach 2 to 2.5 feet tall with a spread of 2 to 3 feet, so remind your clients and customers that this plant will take more room than they assume it will. But the near-continuous bloom from spring through fall makes up for any size surprise.
Hardy in zones 4 to 8; the showy flowers and fragrant foliage are tolerant of deer, drought and dry soil. Bees love it!
2006 – Dianthus gratianopolitanus 'Feuerhexe' (PPOY 2006)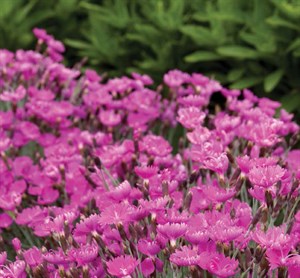 Photo Courtesy of Doreen Wynja for Monrovia
Cheddar pink is known for its cheery, ruffled blooms; 'Feuerhexe' turns up the volume on color with its bright magenta flowers that cover the low-growing mound in spring — and may repeat intermittently through summer. Best in full sun, the plant grows only to about 6 inches tall and spread to 1 foot, making it a suitable groundcover plant for areas needing that exclamation point of color. Grassy foliage is deep blue and remains clean throughout the season.
Hardy in zones 3 to 8; tolerates deer.
2005 – Helleborus × hybridus (PPOY 2005)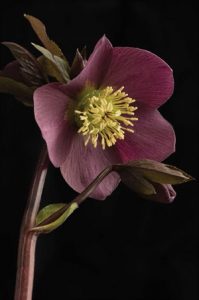 Photo iStock | 22kay22
Hybrid hellebores — Lenten rose — have become the must-have plant for the gardener who desires a promise of spring. Dark green, evergreen leaves provide color through the coldest season, but come mid- to late winter, graceful, nodding flowers emerge in colors ranging from the deepest purple to red, pink, white and yellow, some flecked with starry spots. The cup-shaped blooms range from 2 to 3 inches in diameter and feature five showy petals.
The plants are easily grown in part to full shade and require very little maintenance once established.
Hardy in zones 4 to 9; tolerant of deer and heavy shade.