Mark Windham — August 25, 2015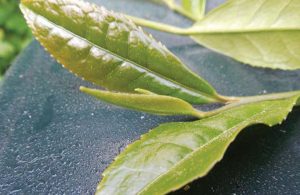 Native to China, Camellia sinensis may be grown in the U.S. as an evergreen shrub or small tree. The leaf tips and first and second leaves are picked to make a beautiful and delicious drink that most people know as green tea or black tea. The recorded history of making beverages from the leaves of Camellia sinensis dates back to at least 2700 BCE in China; however, new research indicates that the use of tea in China dates back 2,000 years before the Egyptian Pyramids were built, placing the use of these plants more than 6,000 years ago. Making and drinking tea has since spread throughout the world, but tea does not grow just anywhere.
Tea has not been widely grown as a crop in the United States, although the tea industry in the U.S. is a $20 billion business. With the efforts of a few entrepreneurs and much experimentation, tea farms are now popping up in the most unlikely places. More than 20 tea farms are now beginning to produce tea in the U.S.
The art of growing tea first came to the East Coast of the U.S. in the year 1793, and the plants initially struggled. In 1869, tea was introduced to the West Coast by the Wakamatsu Tea and Silk Colony in Gold Hills, California. Here too, the tea did not survive. The Gold Rush overshadowed the propagation of tea.
Name: Camellia sinensis
Common name: Chinese tea
Hardiness: Zones 7 to 13
Mature height: 10 to 30 feet
Mature spread: 10 to 30 feet
Classification: Evergreen
Landscape use: Camellia
sinensis is an evergreen shrub that can be used as a hedge or specimen, gaining notoriety in the United States as green tea. Many people are beginning to plant small patches for personal use.
Ornamental characteristics: Widely used in the United States in landscapes as a hedge plant due to its glossy, thick, dark green evergreen leaf accompanied by small, white, fragrant flowers in autumn. (Tender, lighter green young leaves are harvested for tea.) Once established, Camellia sinensis is semi- resistant to drought.
It was at Mendon's Nursery in Paradise, California, when working as a salesman, that I first met Camellia sinensis. An order arrived from Nuccio's, a camellia nursery in Southern California. In that order were Camellia sinensis plants, a new variety for me. They captivated me, and I bought all of the plants that came in and planted them at home. I've learned that my Camellia sinensis tea plants are offspring plants from horticulturalists involved in the Wakamatsu settlement and the Domoto Brothers Nursery in Oakland, California, in 1883. The Domoto brothers propagated the finest chrysanthemums, roses and camellias, including plants for tea. The next generation of Domoto eventually shared the tea, and a long lasting friendship developed with fellow nurseryman, Julius Nuccio in Southern California. From Nuccio's Nursery, this tea has found its way full-circle to 100 miles north of the original Wakamatsu Tea and Silk Colony. It is growing in the perfect conditions of the Sierra Nevada foothills in the Golden Feather district of Concow, California.
Tea plants can be grown from seed, from cuttings and from air or ground layering; seed is the preferred method. I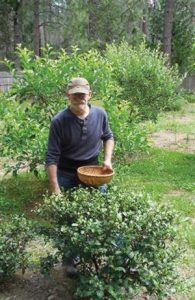 started with 50 tea plants in 2010. In 2015, I have 500 tea plants on a half-acre of land. By tea plantation standards, this is a light planting. Currently, I am harvesting around three quarters of a pound of finished tea per harvest and have had anywhere from five to eight quality harvests per season. Camellia sinensis requires a very specific growing environment to produce good quality tea. It is an acid-loving plant that requires morning sun and afternoon shade. Be sure to have your soil tested to determine the pH, as well as nutrient levels. As it is relatively new to this environment, it's my experience that the plants are pest and disease free.
It is my understanding that there are new varieties of tea plants coming into the field. Growing them well will be a matter of experimentation, as I have experimented with Camellia sinensis. I think that really having a relationship with this plant is why it has developed into a very fine tea to drink.
The processing of tea is also most important and is an intense art. I practice handcrafted ancient methods and have learned how to create a lovely black tea called Kocha. My tea company, Golden Feather Tea®, honors Camellia sinensis as an artisan wild-crafted tea. Every tip is hand-picked, hand-rolled and gently roasted in the spring or sundried in summer.
Cover and photos courtesy of Golden Feather Tea