Staff — May 21, 2015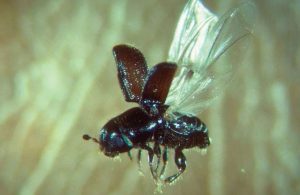 The Connecticut Agricultural Experiment Station (CAES) and the state's Department of Energy and Environmental Protection (DEEP) have confirmed the presence of southern pine beetle (SPB; Dendroctonus frontalis) in Wallingford; the identification was further confirmed by the U.S. Forest Service. This is the first detection of the pest in Connecticut.
SPB has been detected at six sites in the state, including four locations in New Haven County and one each in Litchfield and Hartford counties. According to state entomologist Dr. Kirby C. Stafford, "It is disappointing to have yet another forest insect pest introduced into the state, but as this is a beetle native to the U.S., there will be no Federal or State regulation on movement or disposal of infested trees or wood."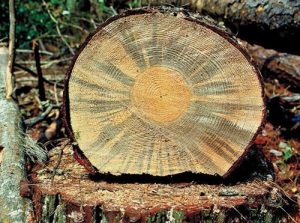 Damage from southern pine beetle is evident in blue-gray stain caused by the fungus carried and transmitted by the beetle.Photo courtesy of Ronald F. Billings, Texas Forest Service; Bugwood.org
"Hard" pines, such as non-native red, scotch and Austrian, are most at risk in the state, but the native tree of most concern is pitch pine. Once abundant, its numbers have diminished due to development of its preferred habitat, and only scattered patches of pitch pine remain.
Adult southern pine beetles are about 2 to 4 mm long, and are dark brown to black with prominent, broad heads. They commit mass attacks, depleting the tree's protective resin production. Females create long, winding, S-shaped galleries within which they lay up to 30 eggs. Yellowish white beetle larvae are about 2 to 7 mm in length. As the larvae develop, they tunnel toward the outer bark. Young adults then bore an exit tunnel directly through the outer bark, creating an open shot hole.
Galleries formed by the female southern pine beetle are filled with frass; eggs are laid in the galleries.Photo courtesy of Roger Anderson, Duke University; Bugwood.org
Southern pine beetle is considered the most destructive insect pest of pine in the southern U.S., but has been moving steadily northward. Its presence has been confirmed in the Pine Barrens of New Jersey, where it has caused significant damage; a large infestation was detected in the Pitch Pine Reserve in eastern Long Island, New York, last fall.
Cover Photo courtesy of Erich G. Vallery, USDA Forest Service – SRS-4552; Bugwood.org