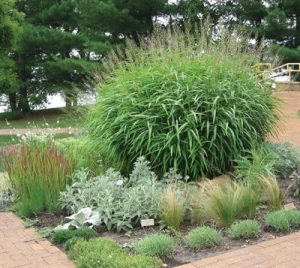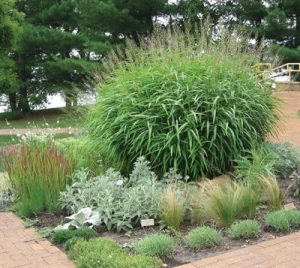 Attractive silver spikegrass, Spodiopogon sibiricus, is also called frostgrass or greybeard. This is an underused landscape grass that grows easily in most sites as long as there is adequate moisture. The botanical name reflects the appearance and origin of the plant: spodios = ashen, pogon = beard; sibiricus = of. Silver spikegrass is native to the grasslands of the montane regions of central China, Manchuria to northeastern Siberia as well as the grassy mountains of Japan and Korea. In its native habitat, greybeard is often found in forest glades, slopes on mountains, and among shrubs. In his 1958 publication, "Manual of Vascular Plants of the Lower Yangtze River Valley," botanist Albert Steward translated the Chinese common name, ta ya mang, as "great oily-awn," noting the awns or beards on the flowers. The fuzzy, ashen-colored flowers often sparkle in the sun.
Silver spikegrass has dense foliage, with medium to coarse leaf blades that give it a bamboo-like look. Medium in height, the rounded shape gives this grass a hedge-like appearance. The medium green to yellow-green summer foliage is attractive and pest-free. Fall color can be yellow, orange, burgundy-red or brown, and it varies with the amount of moisture. Frost grass is at its peak in July through November, and if snows are not heavy, it can be of interest through the winter. Heavy snow often flattens the whole plant, as its wide foliage tends to collect snow.
Silver spikegrass grows best in cool or temperate climates and prefers full sun; in hotter climates, however, it prefers some shade. One site requirement is adequate moisture: This is not a drought-tolerant species, especially during establishment. The wider foliage loses more moisture than other grasses, so plant silver spikegrass near downspouts or in soils with high moisture, such as clay and clay loams. Plant it where it will not be exposed to excessive heat; for example, avoid locations near sidewalks or walls, which tend to hold heat. If planted in these sites, provide additional moisture. Like most grasses, it will grow near black walnuts.
Use silver spikegrass in the landscape as a screen or hedge, in the back of a perennial border, or as a specimen plant. Because it grows to about 5 feet tall, with foliage about 4 feet wide, it is versatile without being too large.
Frost grass is underplanted. It could be used much more in garden and landscape settings. It is especially attractive with evergreens and adds an Asian look to the garden. It also works well in a perennial border, especially with other plants that prefer moist to wet conditions, such as rose mallow, ostrich fern, gooseneck loosestrife and monarda.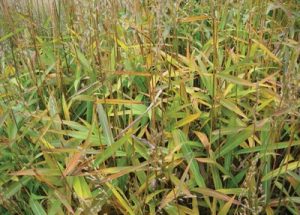 Click image to enlarge.
Consider using silver spike grass in your next garden design or planting. Sited properly, it will live and thrive for many years with only a spring clean up for maintenance.
Mary Meyer
Professor and Extension Horticulturist, University of Minnesota
Name: Spodiopogon sibiricus
Common name(s): Silver spikegrass, frostgrass, greybeard
Hardiness: Zones 3 to 9
Mature Height: 3 to 5 feet
Mature spread: 2 to 4 feet
Classification: Ornamental grass
Landscape use: Screen, hedge, back of border. Plant with companions such as evergreens, monarda, astilbe, Siberian iris, rose mallow
Ornamental characteristics: Medium-green foliage turns yellow, orange or red in fall; flowers shine from late July through November and remain for winter interest. Sparkly, gray-green to buff panicles catch the sun.