brandan Jones — May 1, 2014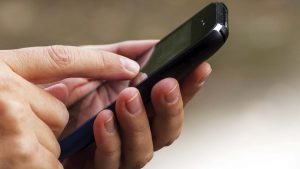 A new mobile app makes it easy to locate and identify plants by color, by location and by time of bloom. What's more, it works to help develop an easily accessed, communitywide arboretum.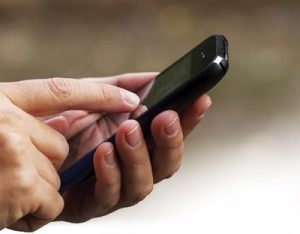 Click image to enlarge.
Phone images: Getty Images/iStockphoto
If you're looking for handy information about plants, there are many websites and several plant apps. A new mobile app from http://Plantplaces.com, however, is a truly innovative app that will help educate the green industry and the public about plants in their community. It gives professionals, interested individuals, and communities the ability to track and become contributors to a concept of the communitywide arboretum. Promoting plant diversity through education is the goal.
Search by Color: A multidisciplinary approach
One distinguishing feature of the http://PlantPlaces.com Mobile for Android™ app is the search by color function. This feature allows you to take a photo of any color on any object, and it will then show you which plants have that color. Plants with flowers, fall color or leaf color that match the color of your photo will appear on the screen. Annuals, perennials, trees and shrubs can all be color indexed in the app.
For example, if you like the color blue, do you know which plants have that color? Search results will show you plants like Brunnera, Siberian squill and Mertensia virginica, all with blue flowers. A search for pink will yield plants like Hopi crape myrtle, Magnolia × soulangeana, Vista Bubblegum petunia and several other plants with pink flowers. You can take a photo of your car and match plants to your favorite ride. The color of your living room drapes can be matched with plants simply by snapping a photo.
Click image to enlarge.
Figure 1: Photo of Cercis canadensis branch
All photos courtesy of PlantPlaces.com Mobile unless otherwise noted.
Search by Color required a multidisciplinary approach. Brandan Jones, the developer of the http://PlantPlaces.com Mobile app, has a degree in horticulture and is an Adjunct Assistant Professor in the University of Cincinnati's School of Information Technology. He combined these two fields to develop the Search by Color feature.
Searching by color isn't always as simple as searching by red or pink. A computer can represent more than 16 million unique colors, which is more variants than the human eye can distinguish. A flower that we consider pink may actually be hundreds of shades of white, red, lavender and pink. When searching by color, it's important to find potential color shades that a user wants, and then provide an easy-to-navigate screen that gives the user an opportunity to select a shade from a series of color options.
Click image to enlarge.
Figure 2: Picture of the 16-color grid from PlantPlaces.com Mobile.
The Search by Color feature takes several steps: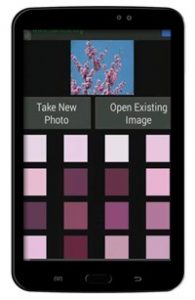 1.) Acquire an image, using the Android™ device's camera, or use an existing image on the device (Figure 1).
2.) Simplify the 16 million possible color variants into a more useful palette of colors. Focus on color variations that can be distinguished by the human eye.
3.) Filter out the background of a photo. (If you take a photo of a flower, chances are you'll also capture a leafy green or a sky blue background. But you're really only interested in the flower color, not the background.)
4.) Sample the desired colors in the photo.
5.) Use a computer algorithm to find the 16 highest frequency colors of the desired object in the photo. Display the colors in a grid (Figure 2), and allow the user to select one of these colors.
6.) Show a list of plants that match this color (Figure 3), within about a 10 percent variation of shades.
7.) Allow the user to select a plant and see more details of that plant (Figure 4).
Above all, the mobile application has to perform these steps quickly. Images can be very large, and determining color frequency requires analyzing a very large set of data. Mobile phones have limited power, processor and memory resources.
This feature is unique to http://PlantPlaces.com Mobile. Search by Color could also help you find out what type of plant you have. Take a picture of the plant's color to see what other plants have that color, including the one you've photographed.
Plant selection
How do we know which plants are the best to recommend to the public? Do we follow what is written on the tags? Do we follow what zones the plants grow in? Do we follow the numerous garden books and magazine articles we read? Do we just Google the plants we like? This is certainly how many of our customers select plants.
Plant selection has become more about color than about other qualities. Even our containers are focused on color and branding. With all the new plants on the market, and every company coming up with their own branding of plants, keeping up with all these plants has become difficult. How do we keep track of all of them? Use http://PlantPlaces.com Mobile for Android™.
One of the features of the PlantPlaces app allows you to easily use GPS to locate the plants you see throughout the community – with just a few simple clicks on your phone. Whether you are at an arboretum, a garden center, a botanical garden or a friend's backyard, in just a few seconds you can add the GPS location of plants you want to keep an eye on. This will easily allow you to track what happens to these plants as time goes by. This past winter provided a good opportunity to demonstrate how useful this app is.
Many regions have experienced the coldest temperatures of the past 20 years. In the Cincinnati area, we will be looking at how the new cultivars of crape myrtle survived the cold temperatures. Many of the new types of hybrid holly will be followed, as well. This app gives plant professionals and enthusiasts the opportunity to contribute to local plant collections, as well as recommendations based on what is growing well in their area. With the pace of new plants being introduced, we are going to need a robust tracking mobile system; this will also help us determine which plants rise to the top to become highly recommended plants for the landscape.
Click image to enlarge.
Figure 3: The results screen on PlantPlaces.com Mobile.

Advanced Plant Search
The Advanced Plant Search feature allows you to look up any plant in the database. Type in the common or Latin name of a plant, and the app will search the database to find the plant. If you know it is an oak, you can type in the word "oak," and 25 different selections will appear. Select one, and all the information from the http://PlantPlaces.com database about that plant will be provided.
You can also search by bloom date. Select the "Bloom Date" feature on the left side and search by the current date. You can also enter your own date. Click search, and plants that have bloomed on that day appear in the results. Click on any of those plants and you will be taken to the information and photos of that plant. For instance, search a date in mid-March and plants such as winter aconite, Hamamelis, snowdrops and Lenten rose will appear. If you want to know what blooms on Memorial Day, just enter that date and up comes anything that has bloomed on Memorial Day in the past. This can also help you plan blooming all throughout the year.
The Tree Challenge for schools
The developers of http://PlantPlaces.com are starting an educational program called the Tree Challenge. The Tree Challenge is a program in conjunction with the Cincinnati Zoo & Botanical Garden and http://PlantPlaces.com. The idea is simple: We want every school in our region to map the plants on their grounds using the http://PlantPlaces.com mobile Android™ app. Each school will have the ability to create its own plant record system. Once plants are identified and located, we have the opportunity to label these plants. Labeling plants on school grounds will allow students to become more aware of trees at their school. Each label will also have a QR code for more information about the plant.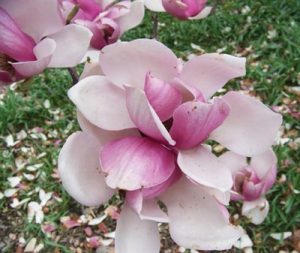 Click image to enlarge.
Details of magnolia selected from among color options provided by PlantPlaces.com Mobile.
The Tree Challenge for Communities
The http://PlantPlaces.com mobile for Android™ app is available for communities, as well. We have partnered with the village of Moscow, Ohio, to recover from a natural disaster. Moscow was hit by an EF3 tornado on March 2, 2012. Many of the homes were either damaged or destroyed, and most of the large trees were blown down or broken, requiring removal. The people of Moscow realized the value that their trees had provided, and acted quickly to regain those benefits. Once the cleanup was done, the village started a replanting effort. They planted a small tree nursery and put back into action their tree committee.
Brandan Jones' father was on the Moscow Village Council. We had one meeting with these amazing people, who truly understood what the loss of trees meant to their community, and we decided to help replant Moscow. Through donations and grants, we were able to purchase more than 225 large trees to replant the village streets by that fall.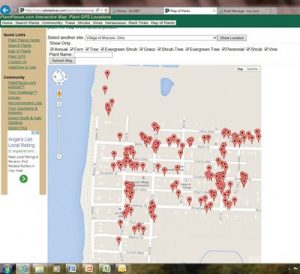 Click image to enlarge.
A screenshot illustrates the location of plants inventoried for the village of Moscow, Ohio.
This was a spectacular project. The goal was to create a community-wide, walking arboretum. More than 80 different species and cultivars were planted throughout the village. Several nurseries in Ohio donated trees to help the community recover its canopy. Once the trees were planted, we used the http://PlantPlaces.com mobile app for Android™ to register the trees by GPS throughout the village. Every tree is now located and available to view on the http://PlantPlaces.com website. The next step is to label the trees throughout the village, including a QR code that will direct users to further information about each tree through the http://PlantPlaces.com website.
It doesn't take a tornado for us to appreciate the trees in our communities. Through education, we will be more inclined to care about them. Arboretums are great places to study trees. Communities have the same ability to educate us in the study of trees – and http://PlantPlaces.com can help make this happen.
Steve Foltz is director of horticulture for the Cincinnati Zoo & Botanical Garden, Cincinnati, Ohio. He can be reached at [email protected] Brandan Jones is adjunct assistant professor in the College of Engineering and Applied Science and College of Evening and Continuing Education, Ohio College of Applied Science, University College, University of Cincinnati. He can be reached at [email protected]
About PlantPlaces.com
The PlantPlaces.com website is built to catalog and display the best plant specimens in a given region. Plant recommendations are based on which plants are successfully growing in the area. This website differs from others in that it is more photo-driven. Plus, it is designed for the homeowner as well as the professional.
One of the main ideas of the website was to connect all of the botanical institutions in a given region and display the best plants each has to offer. Add the best landscape plants in the community, and you have one of the most unique and complete plant collections of a given region, all documented photographically.