Angela Treadwell-Palmer — April 1, 2013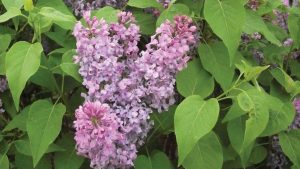 Click image to enlarge.
Lilacs and robins are the traditional heralds of spring. Once we inhale that sweet, signature fragrance and see red-breasted birds flitting about, we know that the season of promise is well underway.
For too long, however, lilacs have been viewed as old-fashioned – and not in a good way. More a plant for Grandma's garden than one that's retro-chic, this bread-and-butter shrub has struggled a bit to receive the attention it so richly deserves.
Name: Syringa vulgaris 'Elsdancer'
Common name: Tiny Dancer lilac
Hardiness: Zones 4 to 8
Mature height: 4 to 5 feet
Mature spread: 3 to 4 feet
Classification: Flowering shrub
Landscape Use: Uniquely sized for foundationplantings; cutting gardens and borders; small urbangardens; wildlife gardens
Ornamental Characteristics: Compact in sizebut big in bloom and fragrance; large, lavender-pink blooms; mildew-resistant foliage
One little standout could change all that: Tiny Dancer (Syringa vulgaris 'Elsdancer'), discovered by noted plantsman John Elsley and introduced in 2011, is a compact shrub that's perfect for today's landscape. Reaching only 4 to 5 feet tall by 3 to 4 feet wide, Tiny Dancer is uniquely sized for the modern garden, fitting in nicely at the foundation as well as in the mixed border or a cutting garden. This little shrub is perfect for small urban sites, giving city dwellers the color and fragrance of a country garden.
Despite its small stature, Tiny Dancer boasts large blooms: Four- to 5-inch panicles of violet-purple buds open to fragrant lavender flowers whose large florets make each cluster appear luxuriously full. Bloom time is typical for lilacs – May through June – but that's all that's typical about this plant. The mildew-resistant foliage provides an extra bonus, appearing in perfect scale with the blooms.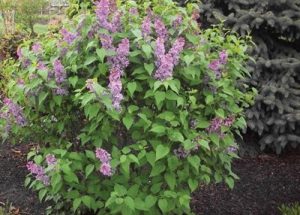 Click image to enlarge.
Photo courtesy of Plants Nouveau
This very well may be the perfect lilac for the South, where few lilacs are able to withstand the heat and humidity. Tiny Dancer is cold tolerant from Zone 4 all the way to Zone 8, where it exhibits remarkable heat tolerance.
Given a site that enjoys full sun to part shade, and average garden soil that's moist but well-drained, this fragrant beauty will provide years of hard-working, independent quality. Tiny Dancer heralds a new beginning for lilacs.
Angela Treadwell-Palmer
Founder and co-owner
Plants Nouveau, Charleston, S.C.
[email protected]