Staff — November 6, 2015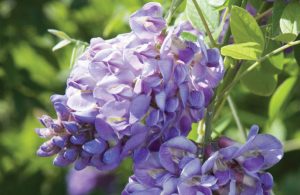 Baby boomers are moving back to the city, according to demographers, where mass transportation is readily available, and where they have easier access to cultural resources as well as health care and day-to-day necessities. The Gen X and Y cohorts, as well as the Millennials, are putting off home ownership and opting for smaller—or shared—spaces. Garden footprints may be shrinking, at least in some cases, so growing up rather than growing out is the way to go. When your clients and customers ask for plants that fit into their reduced yards and their lifestyles, it's a great opportunity to recommend vines.
Actinidia arguta and A. kolomikta
Actinidia kolomikta foliage
Photo courtesy of Missouri Botanical Garden
Hardy kiwi is a fast-growing, twining, deciduous woody vine that produces edible fruit—although smaller than the kind you find in the produce department. The 1- to 2-inch-long, greenish yellow, smooth skinned fruit is delicious, however, and for that reason alone it's a valuable landscape addition.
The species Actinidia arguta will reach 20 to 25 feet long; A. kolomikta reaches about 15 to 20 feet. Both require support, so they're suitable espaliered or on trellises, fences and arbors, where the vigorous growth habit will fill empty spaces and provide privacy and color. The vine is dioecious; it's recommended that at least one male be planted for every three to four females in order to produce sufficient fruit. If they're grown for their ornamental features, males of the A. kolomikta species tend to have showier leaf variegation.
Young, heart-shaped foliage emerges purplish green, but develops outstanding variegation of white and pink on medium green leaves. Small, white and somewhat fragrant flowers bloom in early summer, and often are hidden by the more dramatic foliage. The foliage of A. arguta tends to remain green, but the flowers are more prominent than those of A. kolomikta.
Full sun to part shade is required; A. arguta prefers full sun, while A. kolomikta produces the best foliage color in part shade.
Both species are hardy in zones 4 to 8.
Hydrangea anomala spp. petiolaris
Hydrangea anomala spp. petiolaris
Photo courtesy of Doreen Wynja for Monrovia
Climbing hydrangea supports itself by clinging to surfaces with its aerial rootlets, making it a candidate for a brick or stone wall espalier, or climbing a strong trellis or fence. It needs very little support, so tying and staking is unnecessary. It is slow growing until established, but then develops fast-growing stems that can reach 50 to 80 feet long, so a larger wall is ideal. Flower-producing stems may extend up to 3 feet from the wall on which the vine grows, providing a dense, thick curtain.
Clear green, heart-shaped foliage turns a pleasant yellow in fall, but it's the impressive, lacecap-type blooms that steal the show. Growing 6 to 8 inches in diameter, the long-lasting, cream and white flowers emerge in summer and remain for weeks, attracting butterflies and other pollinators.
Climbing hydrangea does well in full sun to part shade. It can be pruned annually to control its size.
Hydrangea anomala spp. petiolaris is hardy in zones 4(5) to 9.
Lathyrus latifolius
Lathyrus latifolius
Photo courtesy of Missouri Botanical Garden
Perennial or everlasting sweet pea, like its annual cousin, produces showy, pink to white pea flowers in June through September, providing long-lasting color. The vine supports itself by twining tendrils, which need support in order to grow vertically— a trellis or other structure is required. Alternatively, it can be allowed to ramble over a rock garden or become a groundcover. Because it is an exceptionally vigorous grower, however, it has been known to become invasive in some areas and should be used only in confined spaces.
Broadly winged stems support medium green, oval, 3-inch-long paired leaflets; the fast growing stems can easily reach 6 to 9 feet long (or tall, if provided vertical support). One-inch flowers bloom in racemes of 6 to 12 flowers, and are not fragrant. But the unique shape and delicate color provide the show.
Best performance can be expected in full sun, and although the plants require adequate water while they're young, they're drought tolerant once established.
Lathyrus latifolius is hardy in zones 3 to 8.
Parthenocissus quinquefolia
Parthenocissus quinquefolia
Photo courtesy of Missouri Botanical Garden
Virginia creeper is a deciduous, woody vine that attaches itself to structures via adhesive disks that grow at the end of tendrils—no supplemental support is necessary, provided the vine is planted against a brick, stone or wood wall. It can also climb trees, but if allowed to take over, it may choke out the plant that supports it.
Stems can grow 30 to 50 feet, sporting compound-palmate leaves with five leaflets, each extending about 6 inches long. Foliage emerges somewhat purplish in spring, but morphs to a dull, medium green in summer. Small, greenish white, rather insignificant flower clusters often are hidden by the thick foliage.
Fall is when this plant really shines: Come autumn, the sturdy leaves turn purple to varying stages of brilliant, shiny, crimson-red, producing a palette of striking, traffic-stopping colors.
Parthenocissus quinquefolia is tolerant of full shade, although full sun to part shade is ideal. It's also resistant to deer and to drought, and can even be grown near black walnut.
This strong, proud vine is hardy in zones 3 to 9.
Wisteria frutescens
Wisteria frutescens Amethyst Falls
Photo courtesy of Doreen Wynja for Monrovia
Wisteria is among the vines that can be considered a celebration in itself. Spectacular, fragrant, drooping racemes of pea-like flowers reach to about 6 inches long, blooming in spring after the foliage emerges but before leaves are fully developed. The lilac-purple flowers fade in summer (although additional summer blooming may occur) and give way to smooth seed pods that are narrow and flattened, and can themselves be ornamental.
Wisteria frutescens (American wisteria) twines around its support in a clockwise direction and develops to 40 feet long or more; regular pruning is required to control the size and to encourage flowering. Shorter cultivars, such as Amethyst Falls, grow to about 10 feet long. When trained up and over an arbor, wisteria creates a sheltered space that provides privacy and color. It also can be grown in containers (with support), and can be espaliered onto a trellis.
Performing at its best in partial to full sun, this vine should be sited carefully because it tends to resist transplantation.
American wisteria—which is better behaved than its cousin, Wisteria sinensis (Chinese wisteria) is hardy in zones 5 to 9.
Cover photo courtesy of Doreen Wynja for Monrovia