Staff — April 14, 2015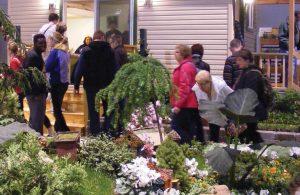 It's all about exposure. The more interested people who see your work—your plants, your designs— the more likely it is you'll increase your customer and client base. That's not to say just any old eyeballs will do; you want to reach those people who are likely to buy. In advertising parlance, it's "qualified." And participating in a flower and garden show is a good way to reach qualified—interested, invested, eager to spend—prospects.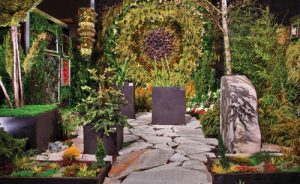 This award-winning installation by West Seattle Nursery features dramatic hardscape elements as well as vertical gardens.Photos courtesy of Northwest Flower & Garden Show
Growers and landscape pros alike have found a welcome reception at such events, and their presence often is in a cooperative endeavor. For example, at this year's Chicago Flower & Garden Show at Navy Pier, the display garden called "The Magic of Gardening" was designed by the folks at Hocus Pocus Groundcovers, a division of Midwest Groundcovers LLC, and built by Leisure Woods Inc., a manufacturer of wooden gazebos. Plants were supplied by Hocus Pocus Groundcovers.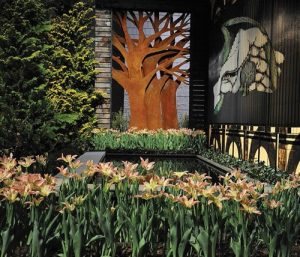 Garden installations at The Philadelphia Flower Show—the granddaddy of them all—were viewed by about 250,000 visitors.Photo courtesy of The Philadelphia Flower Show/Pennsylvania Horticultural Society
The "Garden of Weeping Wonder" was designed and built by grower Rich's Foxwillow Pines Nursery. Rich Eyre, who co-owns and operates the business with his wife, Sue, says he's been exhibiting at the show for more than 20 years, and continues to do so because "my plants are for 'real' gardeners," those who seek the unusual and understand the value of unique specimens.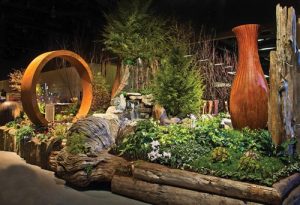 Members of the Washington Association of Landscape Professionals created a spectacular garden that evokes the Great Northwest as well as incorporates modern structures.Photo courtesy of Northwest Flower & Garden Show
Let's consider some numbers. At this year's Chicago show, which was still open at press time, management predicted 40,000 visitors. The San Francisco Flower & Garden Show averages about 60,000 visitors. Up in Seattle, the Northwest Flower & Garden Show brings in 75,000 visitors. And this year's Philadelphia Flower Show, considered the granddaddy of them all, lured 250,000 people to roam the gardens. That's an awful lot of gardeners, and that's an awful lot of pocketbooks.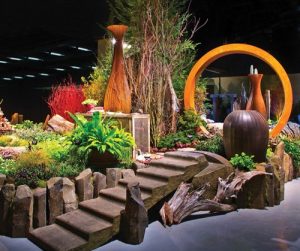 Here's another thought: If you don't want to undertake such an admittedly large project on your own, collaborate with colleagues. Or sign on to make a presentation. Seminars are usually packed with eager consumers who are looking for advice and can't wait for the season to begin. You might even get paid to be a speaker. Can't beat that.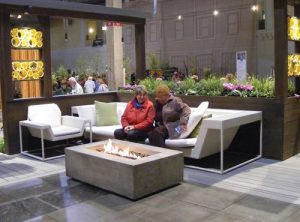 Visitors from Germany relax in front of a gas-fueled fire feature, part of a garden installation designed to educate the public about what goes on underground. The shiny path (at lower left) leading to the fire pit is covered with Plexiglas and allows visitors to see the "underground" gas line. Outside the structure, signage illustrates required distances between plantings and utility lines. The installation was designed and built by Christy Webber Landscapes.Photo courtesy of Sally Benson
Take a stroll through some of the gardens presented here, and start making plans for next year's crop of shows. You just might find a little inspiration.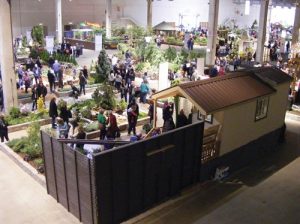 The installation titled "Tiny House, Big (Little) Garden" illustrates the potential of living large in the tiny house movement. The just-enough-room structure contains sitting room, dining room, kitchen, bedroom, bath and porch—all with hidden storage—while the much larger outdoor space is dominated by ornamental and food-producing garden, as well as a play area for children. Design and construction was achieved admirably by horticulture students at the Chicago High School for Agricultural Sciences.Photos courtesy of Sally Benson